---
Artist series
---
Federico Tisa
Mr. Incredible, how I won this war

During the two lockdowns, my family closed itself in a protective bubble for many months, losing the real knowledge of the outside world to such an extent that our disorientation gener- ated the most varied behaviours. Nicolò, who turned 4 years old in April, suffered the greatest burden of this situation and found himself in the complex situation of having to relate only with adults. For his birthday his mum and I gave him a puppet of his best superhero, Mr. Incredible. Nicolò completely identified with the character to the point of becoming his alter ego. This has helped him to overcome many difficult moments. Mr. Incredible is not afraid of anything. He's not afraid of the dark or of this virus. He is not afraid of infection because he is so careful and always washes his hands. He is able to defeat this evil and bring the whole world back to the reality of some time ago.
Marina Dyakonova
The Texture of Fear
The majority of people who suffer from anxiety disorders are women. Today such disorders can usually be treated medically. However, before medical therapy, people commonly found therapy in handiwork. Simple and conventional work with a little bit of creativity is one of a few methods recognized by psychiatrists used to treat anxiety. The project is an attempt to fight off fears by shaping them and tracing their images. It is a combination of photography on canvas and handiwork, which requires working not only with an image but with its medium as well. For each portrait, I applied different types of handiwork that fully comply with the principles of labor therapy: simplicity, convention, and creativity.
Nina Welch-Kling
Rallentando

Rallentando is a series of candid street portraits and fragments photographed in New York City. At first glance, the candid portraits resemble studio shots devoid of time and place. I reveal the spontaneity of the photographs slowly, through fragmented and off-centered compositions of banal details, inserted throughout the series. While moving through the Rallentando sequence, photos offer visual clues that become part of a bigger mosaic of my daily encounters.
I shoot instinctively and spontaneously. The focus of my frames is often a monotone-colored canvas that pedestrians fill by simply passing through. A stream of colorful impressions reflects the never-ending movement of the busy and crowded city. The muted tones and partially out- of-focus images challenge the boundaries between representation and abstraction by often, within a singular frame, suggesting anonymity and emotional disconnection.
Some people brush by me, others keep their distance; sometimes I capture a gesture, some- times just a flowing lock of hair but all are part of the fabric of the everyday life I love to ob- serve. This series celebrates the brief and kaleidoscopic moments I encounter in the city streets of Manhattan.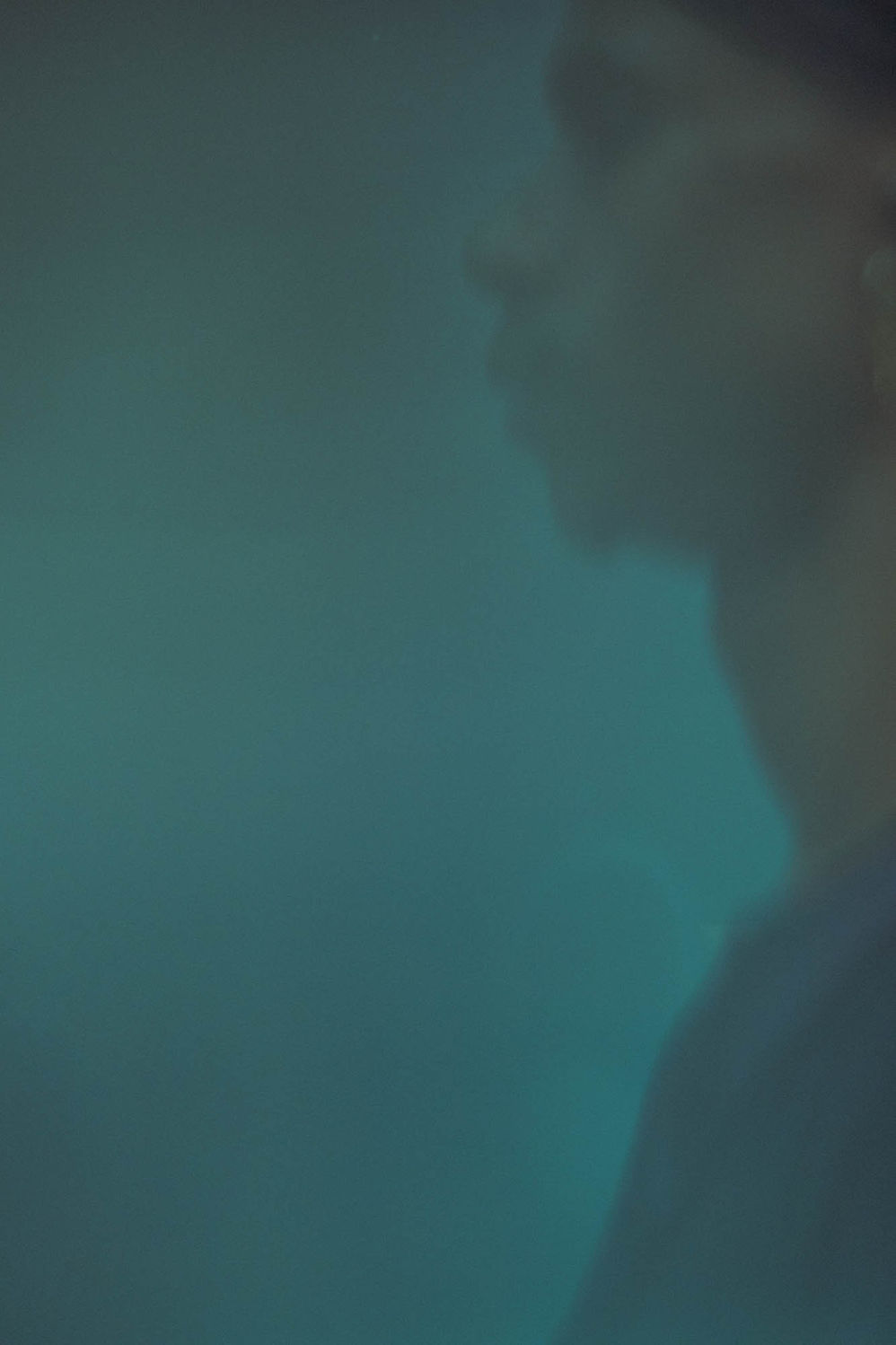 Svante Gullichsen
Hanging on
»Hanging on« is an open story of self-discovery, the crumbling of mental health by severe OCD, and it's reconstruction. The works are self-portraits taken between 2016-2020. The works deal with difficult topics through nature – how gray mosses eat man up, providing security from
the world, but at the same time excluding him from everything. How a white winter landscape is suddenly interrupted, and the image and mind are filled with pitch black smoke. The works combine secrecy, the forces of nature, the battle of light and shadow in unnatural situations in a forest landscape familiar to all Finns.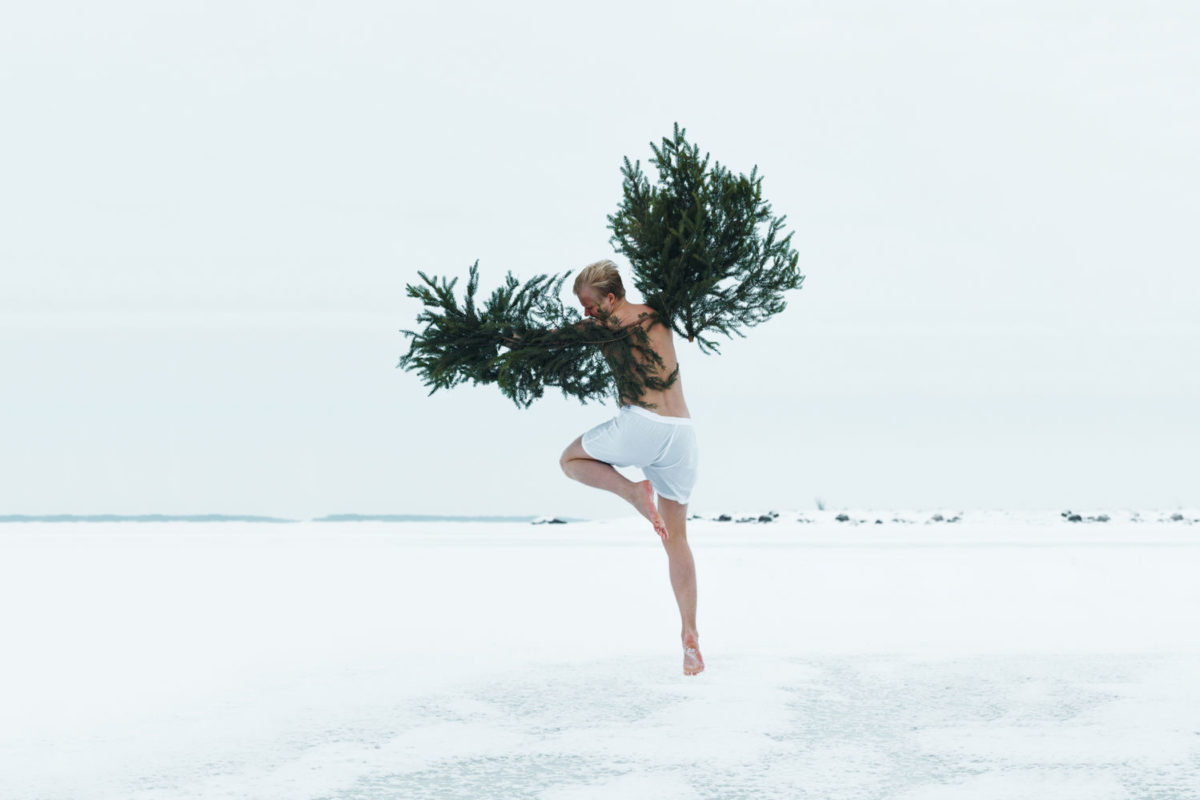 Xiangyu Long
Shared Space
A seven-second video on internet transforms Ding Zhen, a simple Tibetan yak herder, into an Internet star overnight. The overnight sensation not only changed Ding Zhen's life, but also had profound impact on his hometown. Local villagers got inspired to utilize social medias to become influencers. Through social media, the outer world get to know this remote nomadic village, while the village absorbs new trend of the world and change the traditional thinking and customs of the past. The visual contents posted on social media help locals obtain both followers and ad- ditional income. Locals have reformed their living space to accommodate visitors who leave their big-city lives to visit their idols in the village. What was once exclusive family space now has been transformed into a shared space for locals who seek popularity and visitors who try to immerse themselves as deeply as possible in their idea of the romantic, wild life of the local Tibetans.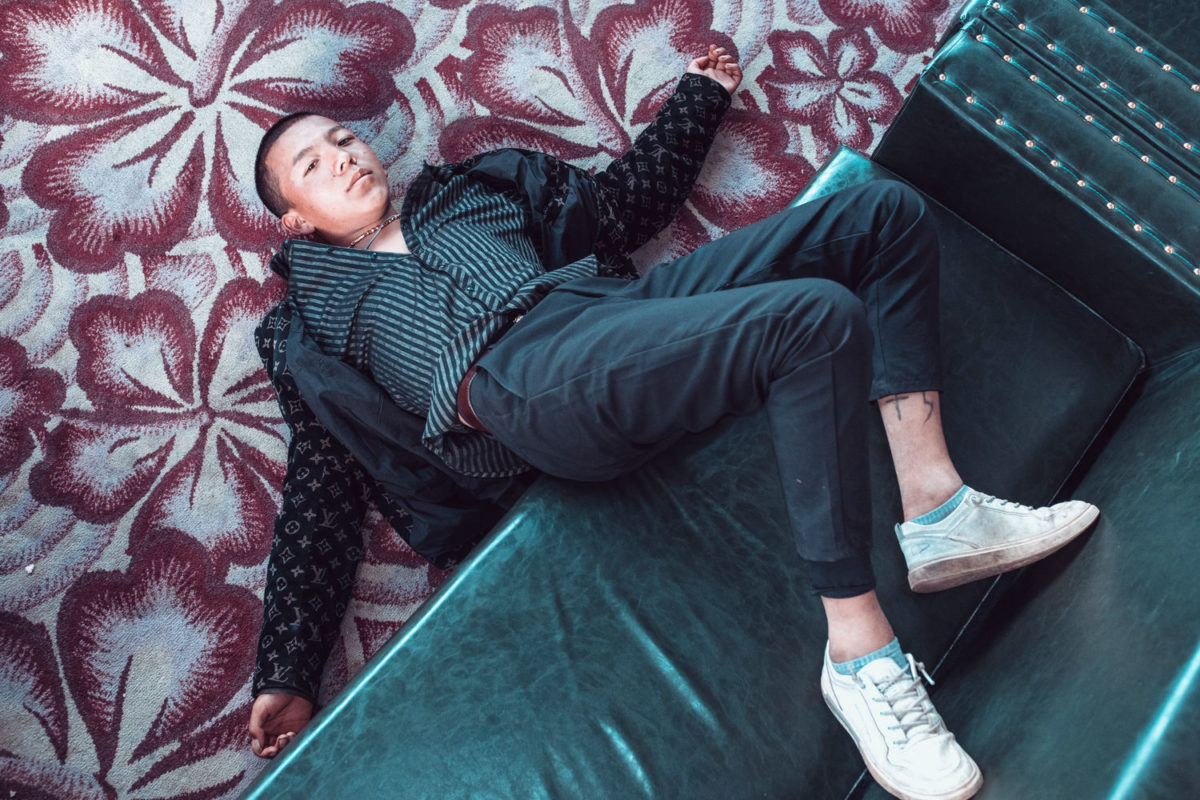 Hannah Altman
A Permanent Home in the Mouth of the Sun
The series explores Jewish diaspora, world building, and sacred time through photographic narratives that build from interpreted ritual and motifs in Yiddish folklore. Judaic stories often consider the polarity of exile; with one hand we tend to ancestral wounds that compel the notion to shield and assimilate, with the other we knead an ancestral resilience that allows us to contin- ually revisit actions, places, and objects as they fit into new spaces of care and translation.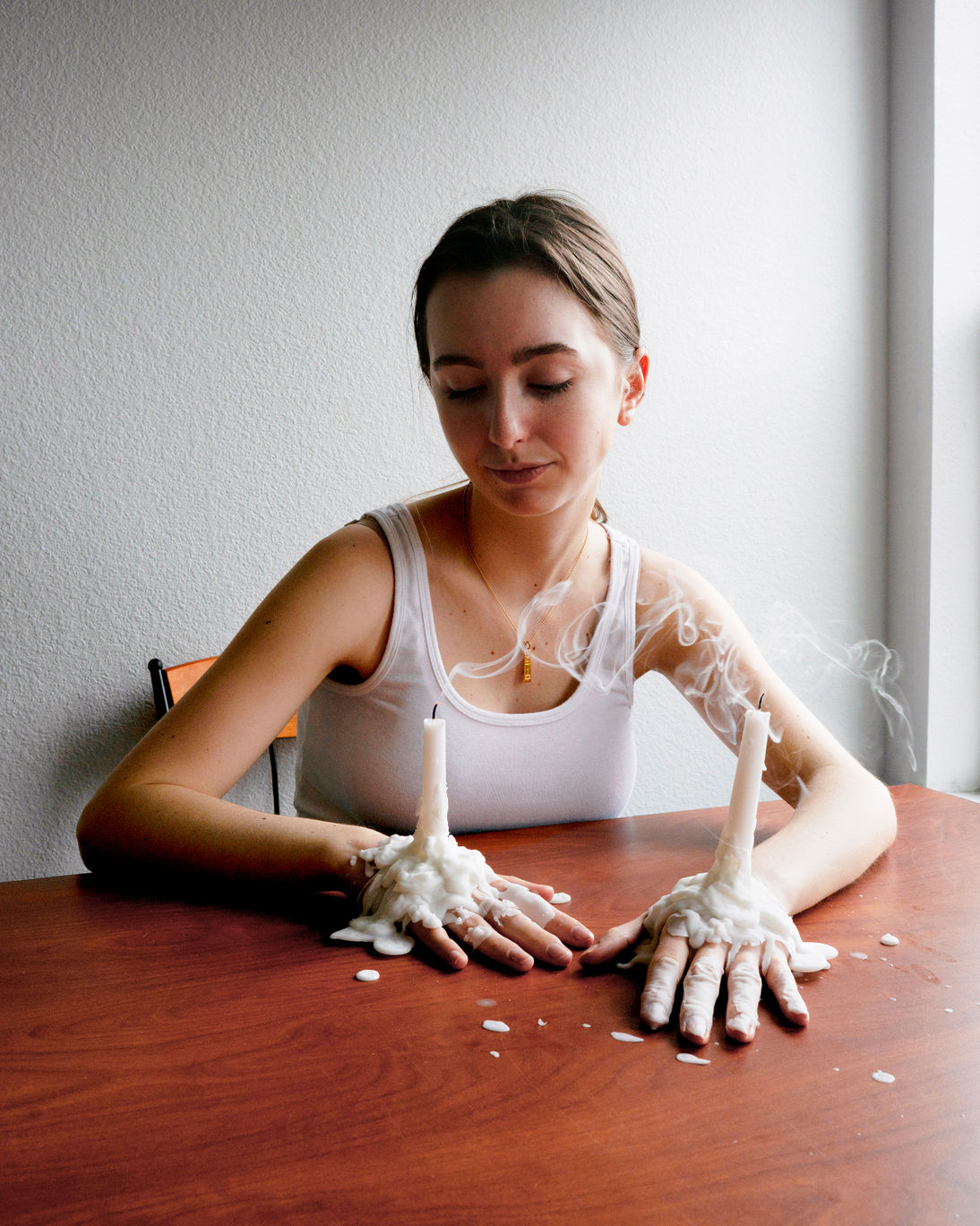 The series aims to capture the anxieties and joys of pregnancy and first-time parenthood during the coronavirus pandemic. I found out I was expecting in April 2020, a month into the national lockdown. With our families back in Poland, the pregnancy became an intimate experience I shared with my husband. Limited mostly to the space of our apartment, I turned the camera on us. I began documenting our lives in this transformative moment, and I have continued doing so with the arrival of our daughter. I hope to show the accidental poetry of everyday life through the eyes of a mother.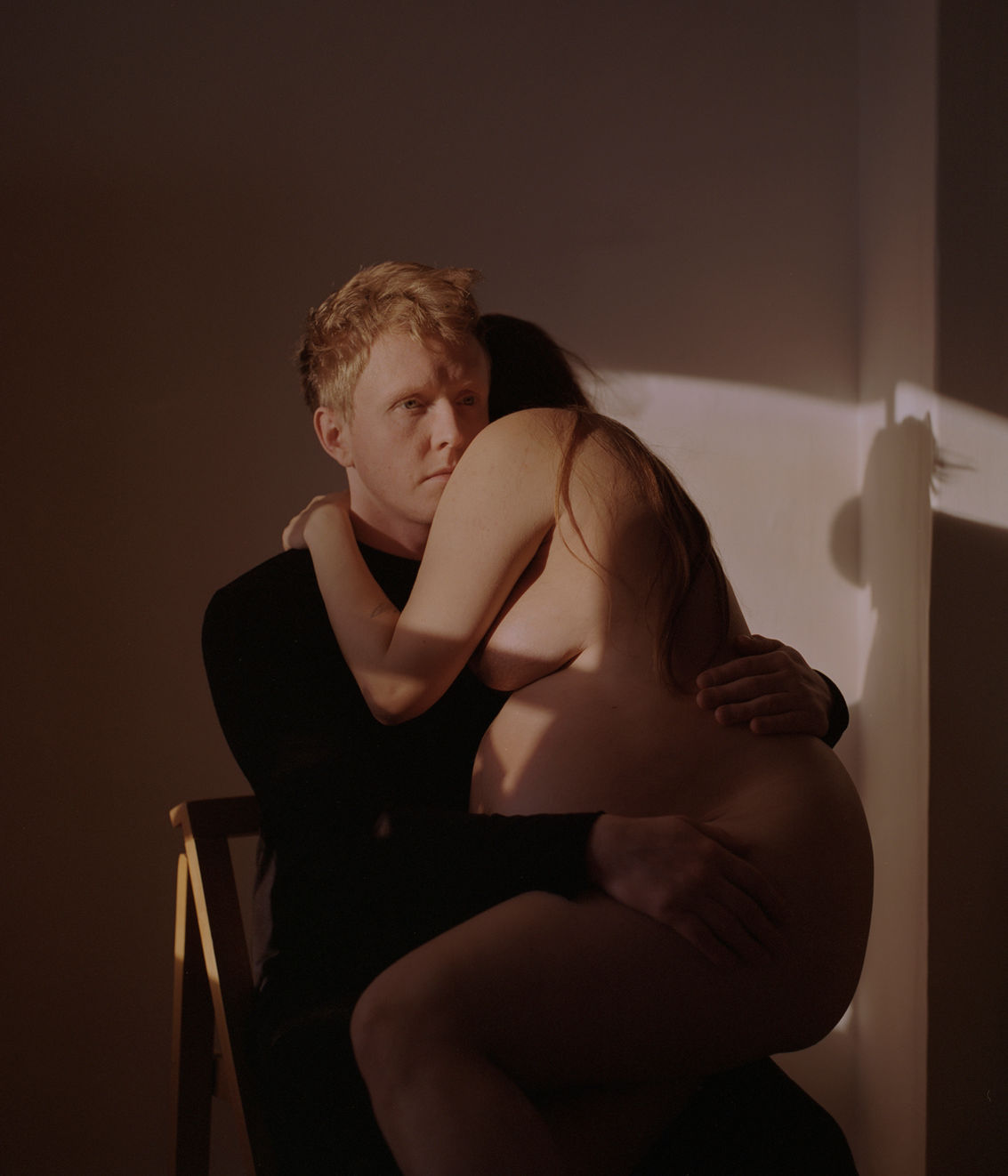 Tara Fallaux
Perfect Pearl
This mixed media series explores the universality of love and marriage in the spiritual and every- day lives of Chinese women. The word pearl is used in the title, which in Chinese culture means 'beautiful' and 'cherished', and given the shape of the pearl, it also implies perfection, so the 'perfect pearl' signifies a happy life or a perfect love. This project, created during my residency in Xiamen, uses a rich narrative to draw out the different aspects of love in the Chinese context — romantic, stable, financially grounded, and the individual's struggle and reflection in the face of these cultural and practical realities.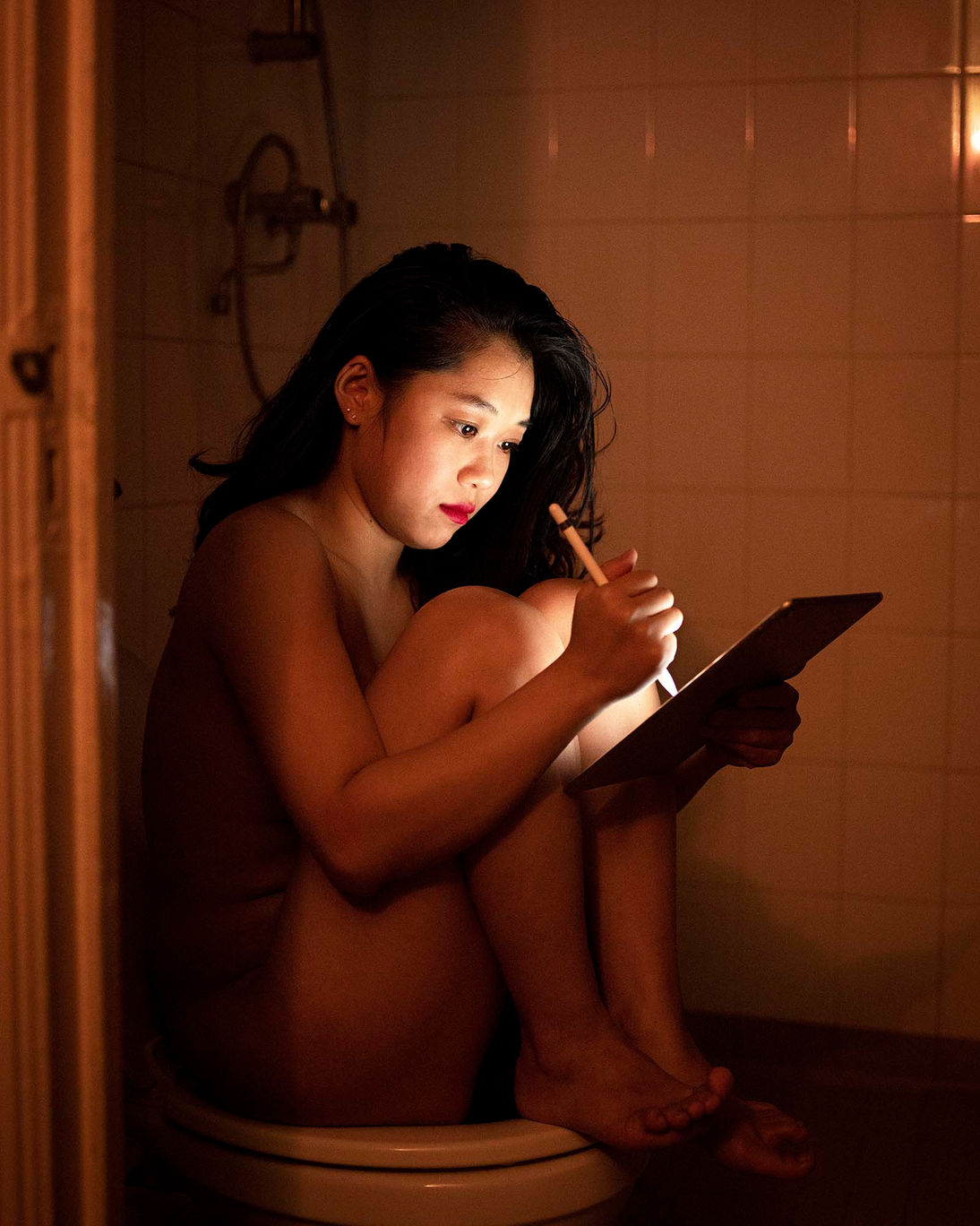 Peter Pflügler
Now is not the right time
This project started out as a story about my father's suicide attempt. When I was two years old, he went into the woods with the intention of never coming back. While I was revisiting my parents' trauma – its places, objects and memories that I could not call my own – I found it here, inside myself. My body always knew. So, this is no longer a story about a suicide attempt. This is about the impossibility of secrets, about what we are sharing when we hide. This is about pain inflicted out of love, about the complexity of silence, and the unexplainable sadness of a boy. Mum, Dad, this is your trauma, that you kept wrapped up in countless colorful blankets and yet unknowingly handed over to me in a loving embrace. I will carry it with care.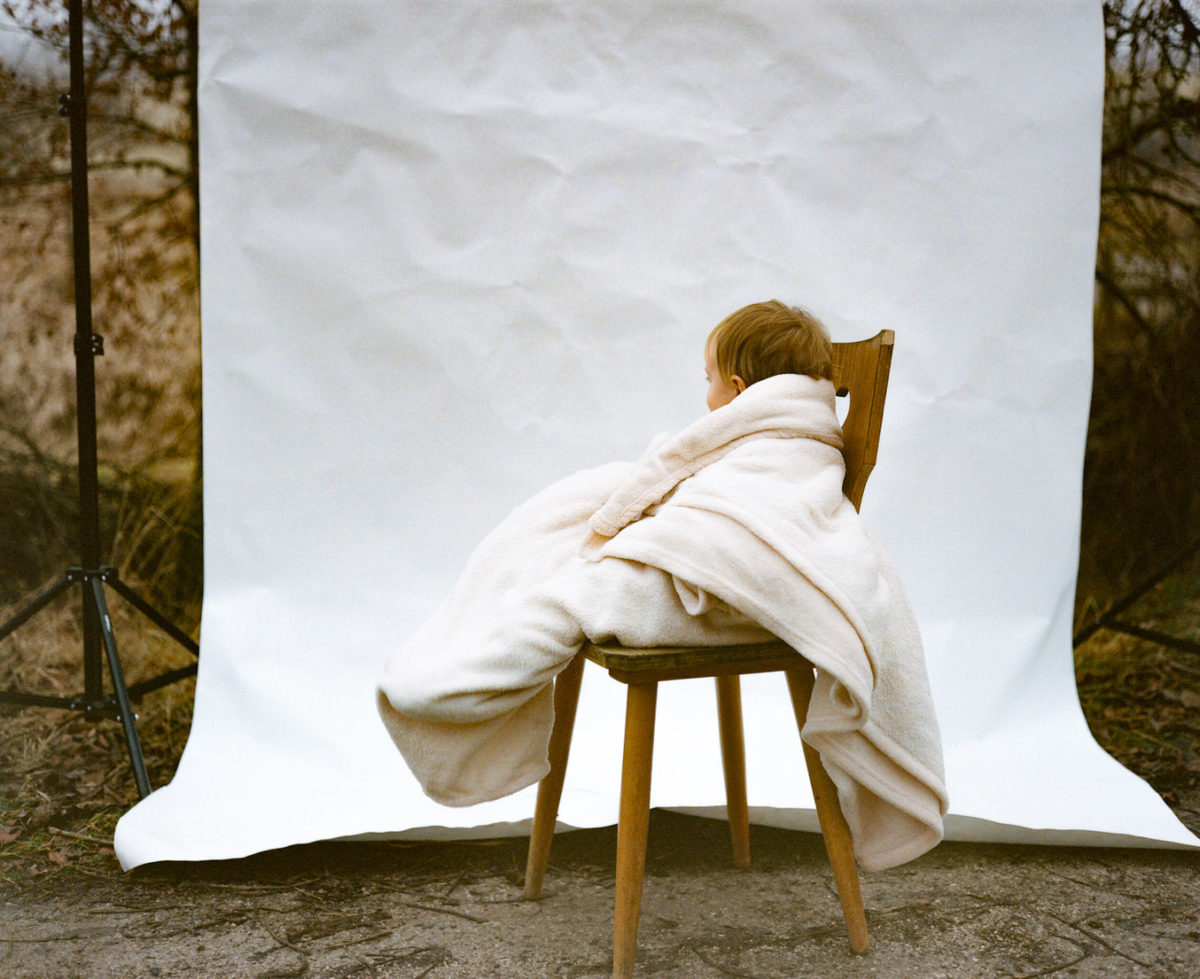 Quetzal Maucci
Children of Immigrants
I am the daughter of two immigrant mothers from Peru and Argentina. My roots are not directly below me, beneath this ground that I stand on, but instead reach to many parts of the world. I grew up in San Francisco, moving constantly from house to house, sometimes in homes filled with other families. I quickly learned to adapt. I became a traveler, just as my mothers are, and just as many immigrants are travelers whose wandering feet and thoughts are never still. For much of my childhood I felt tension between the culture I was immersed in at school and the culture that my mothers kept alive within our home, the one I returned to each night. I was stuck in an uncomfortable in-between, a place from which I am still trying to free myself.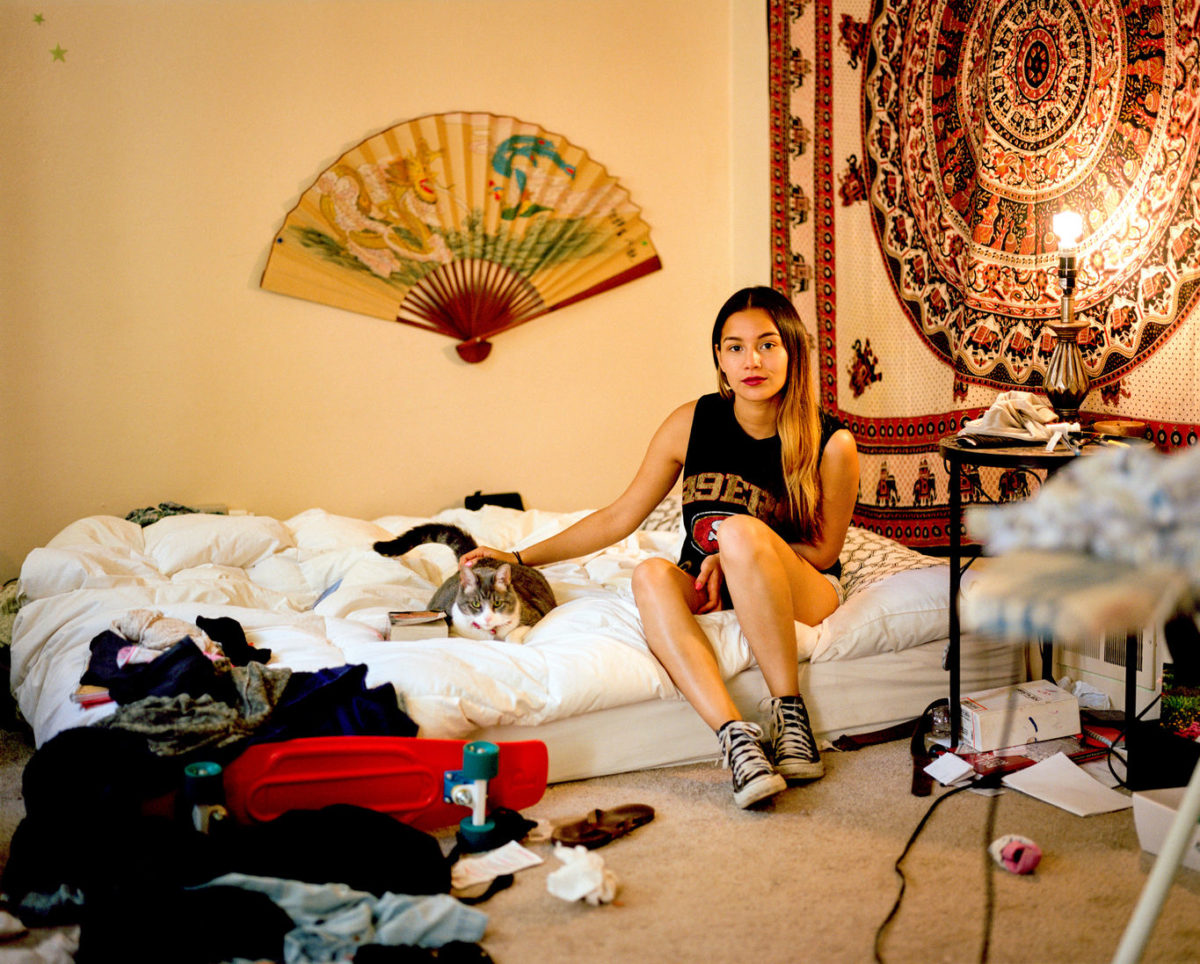 Frank Krems
The loneliness of the man at the barbecue
The present work thematizes in documentary staged form the supposed attraction of a disparate relationship, but above all its drama, in which our counterpart quickly becomes a stranger to us. It makes clear that social rites, which were originally meant to serve and consolidate the common sense, can have the opposite effect due to circumstances and decrees in times like these, quickly leading to isolation and ultimately to absolute disorientation and a feeling of being alone. What remains is a stale view of something that perhaps once was or could have been – or the view into the patient, no-questions-asked and entertaining opposite: the World Wide Web.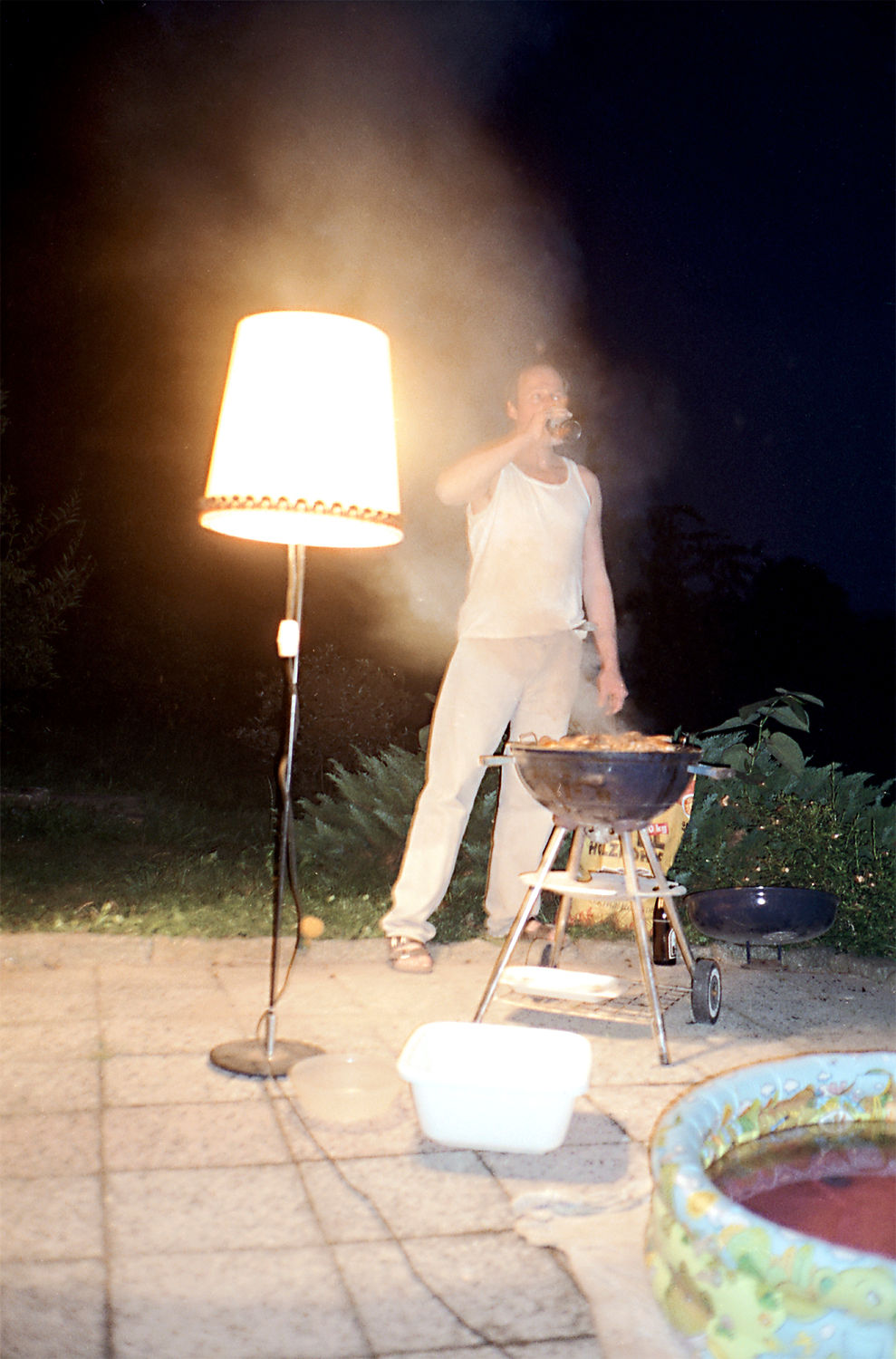 Alexander Komenda

Jove's Palace
The series examines the nuances between the day-to-day, history and geopolitics in relation to the people's current relationship to the surrounding, polluted landscape. Mailuu-Suu, a once secret 'atomgrad' municipality code-named »Mailbox 200«, located in Kyrgyzstan, was a central mining hub part of the Soviet atomic program, where uranium ore mining took place between 1946 and 1968. Consequently, a total of 23 toxic tailings were disposed of, some located in areas vulnerable to erosion, near the river as well as located in areas of unstable tectonic activity; threatening both the community and the populous Fergana valley downriver.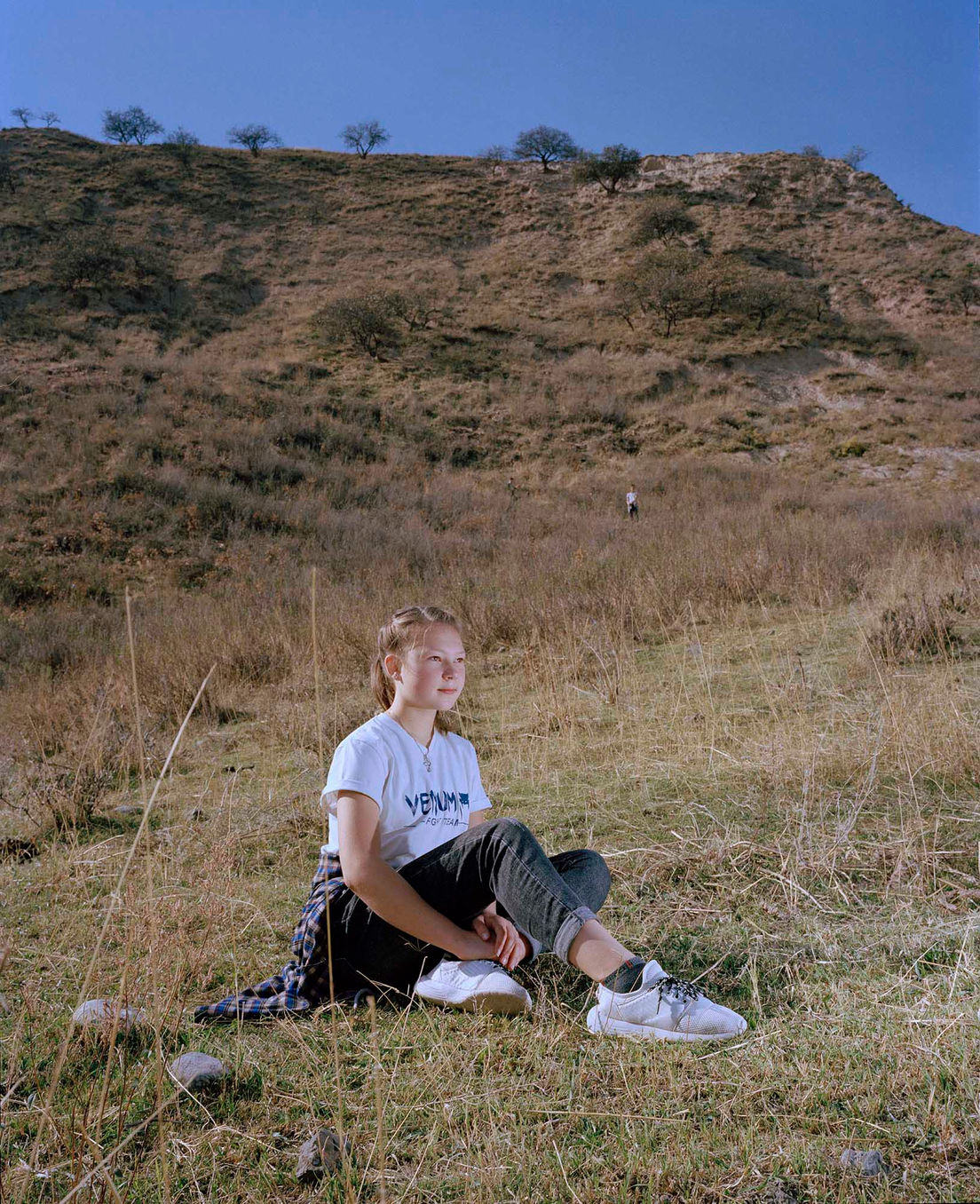 With this series, I would like to show the work in the East German food industry, which since the pandemic has been considered system-relevant, but which – unlike the work of nurses or cashiers – remains mostly invisible. This is also because the production facilities where foodstuffs such as noodles, bread or cookies are made are often located on the outskirts of the cities, in the peripheries. Although work here is done in shifts and is monotonous, it is low-paid and often worse than in the western German states.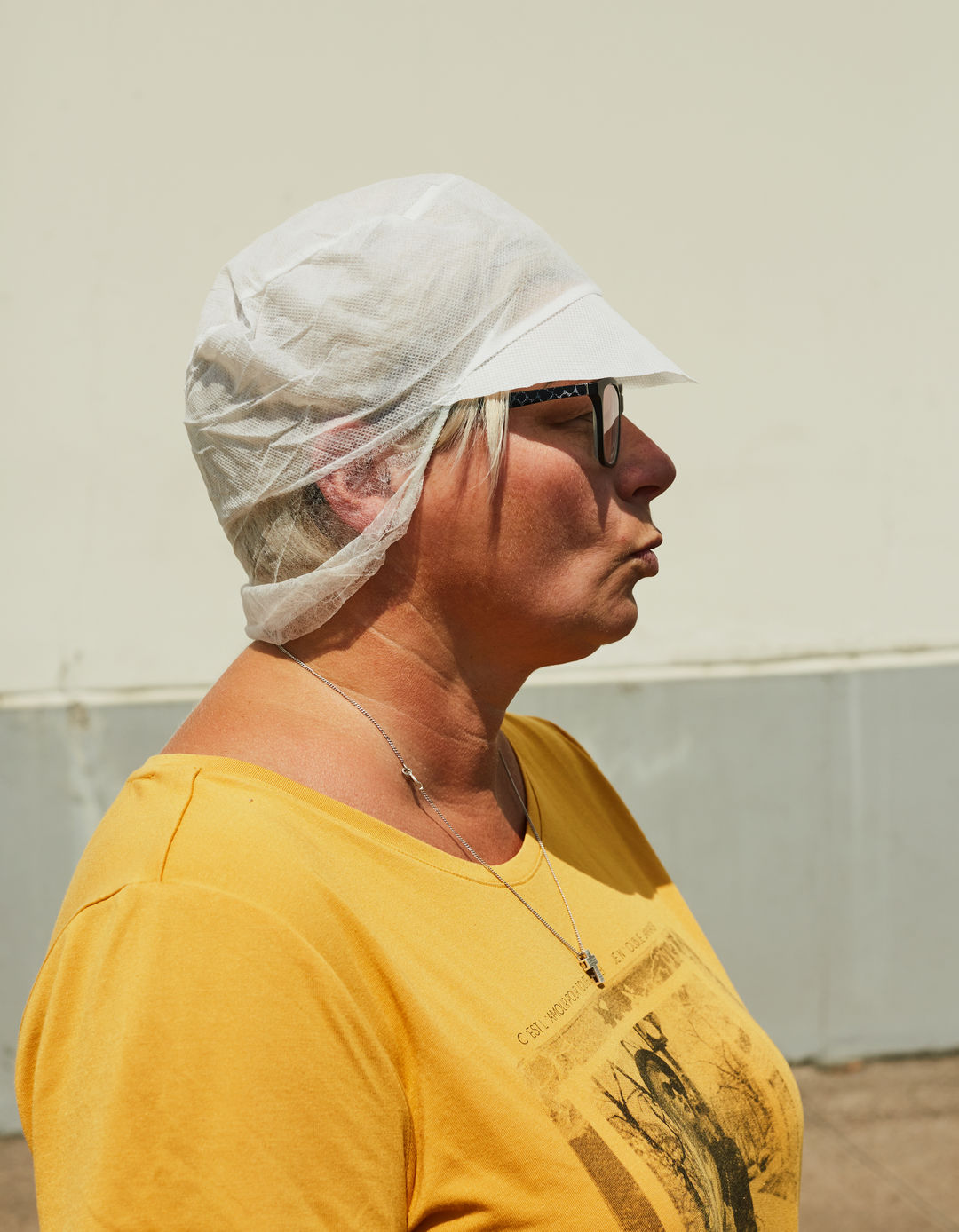 The work exposes the exploitation mechanisms behind the extraction of fossil fuels and visu- alizes that there is no difference in principle between the destruction of the environment and violence against people. The photographs uncover the contradictions of the promise of perpet- ual growth and unveil how much the system of fossil capitalism groans under its own weight. Photographed in sacrificed zones, places where long-term damage to the environment and people is accepted because it enables profits elsewhere. The apocalypse has already begun, even if it is made easy for consumers not to see it. For the people in the pictures, however, they are everyday life.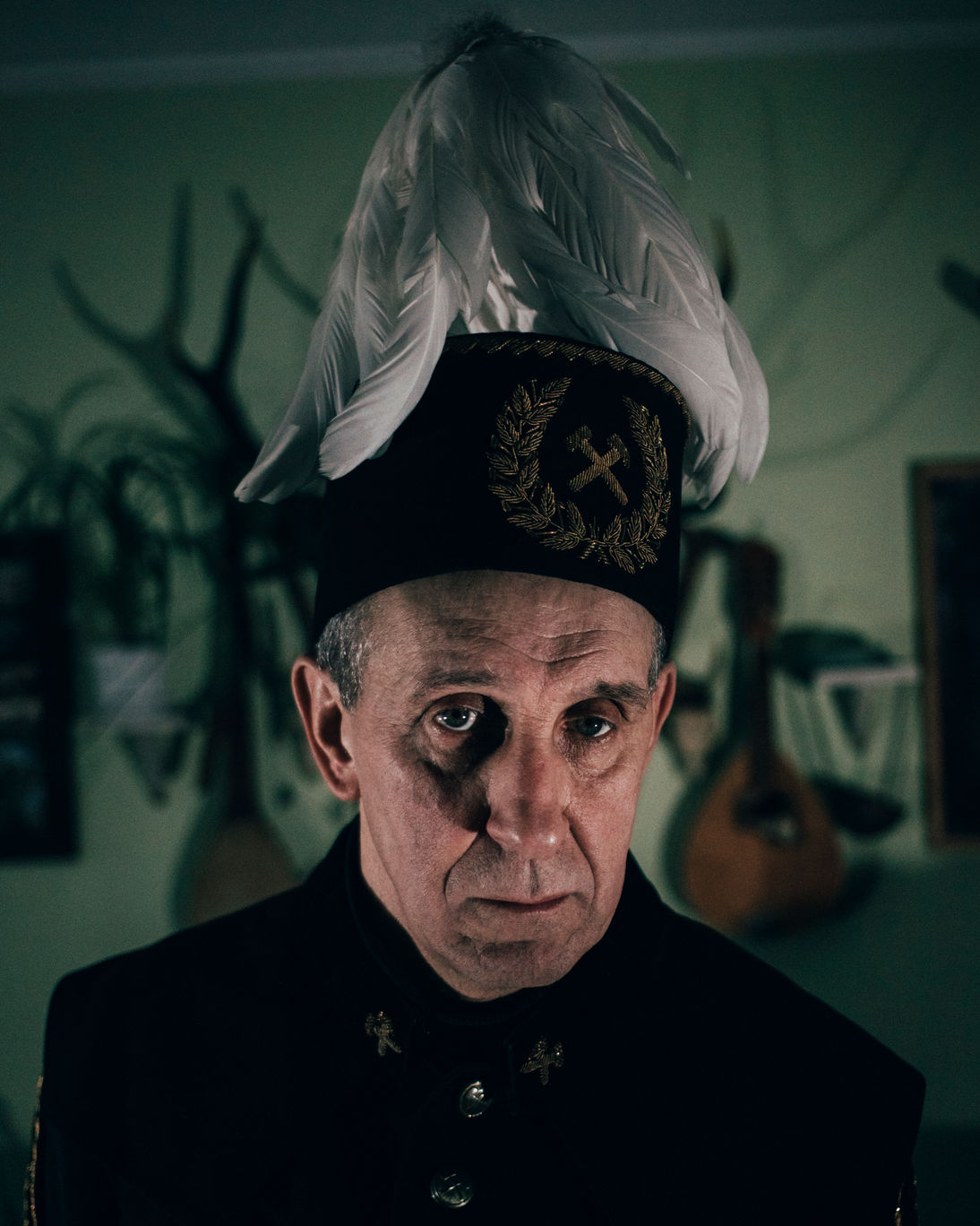 "Gropiusstadt, that's high-rise buildings for 45.000 people, with lawns and shopping centers in between. From afar, everything looked new and very well-kept. But when you were between the high-rises, it stank everywhere of piss and poop. This came from the many dogs and the many children who lived in Gropiusstadt. It stank the most in the stairwells." (from: Christiane F., "Wir Kinder vom Bahnhof Zoo"). In 1962, the architect Walter Gropius, together with Willy Brandt, laid the foundation stone for the large housing estate project "Gropiusstadt". I myself grew up on the other side of the Wall in the 1980s, not 500 meters air- line away. During my first trips to the 'golden west', we were warned as children about the place that was synonymous with drugs and violence. Gropiusstadt is still fighting against this bad reputation. My work is an attempt to approach the myth of Gropiusstadt, a portrait along the photographic border between documentary realism and subjective poetry. In what does it become visible, the ambivalent feeling for life of this architectural utopia on the edge of the city, once proudly cast in concrete and now thought to have failed? Since the 50th birthday of Gropiusstadt, I have been portraying its inhabitants – on the edge of Berlin, where the hopes of modern life border on the sewage fields of Brandenburg.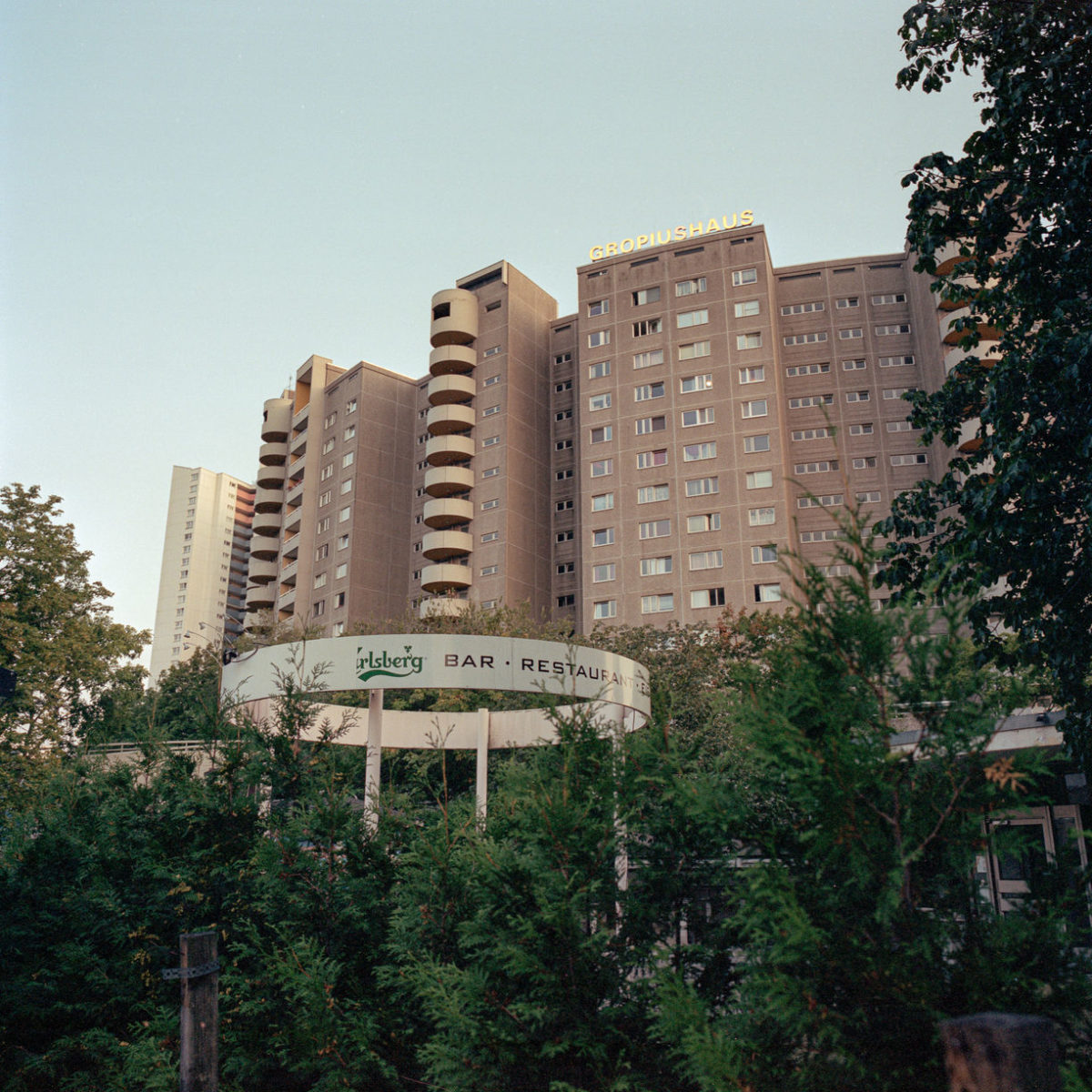 Hanne van Assche
'Удачный / Lucky'
In Yakutia, in the far East of Russia, lies a small mining town called Udachny. It is captured in the icy grip of winter most of the year. According to Siberian legend, God once spilled a bag of earthly treasures over this part of the country. A thick layer of permafrost covers large reserves of coal, gas, gold and – diamonds. In 1955, geologists stumbled upon an exceptionally large diamond deposit. Since then, Udachny has transformed into one of the largest open-pit mines, reaching a depth of 640m. Workers travelled from every corner of the Soviet-Union and established a small settlement near the mine. Even though a steady job seems to be the only motivation to live in this monotown, its 12,000 residents find more reasons to stay, often related to the strong connection they experience with nature and their fellow citizens.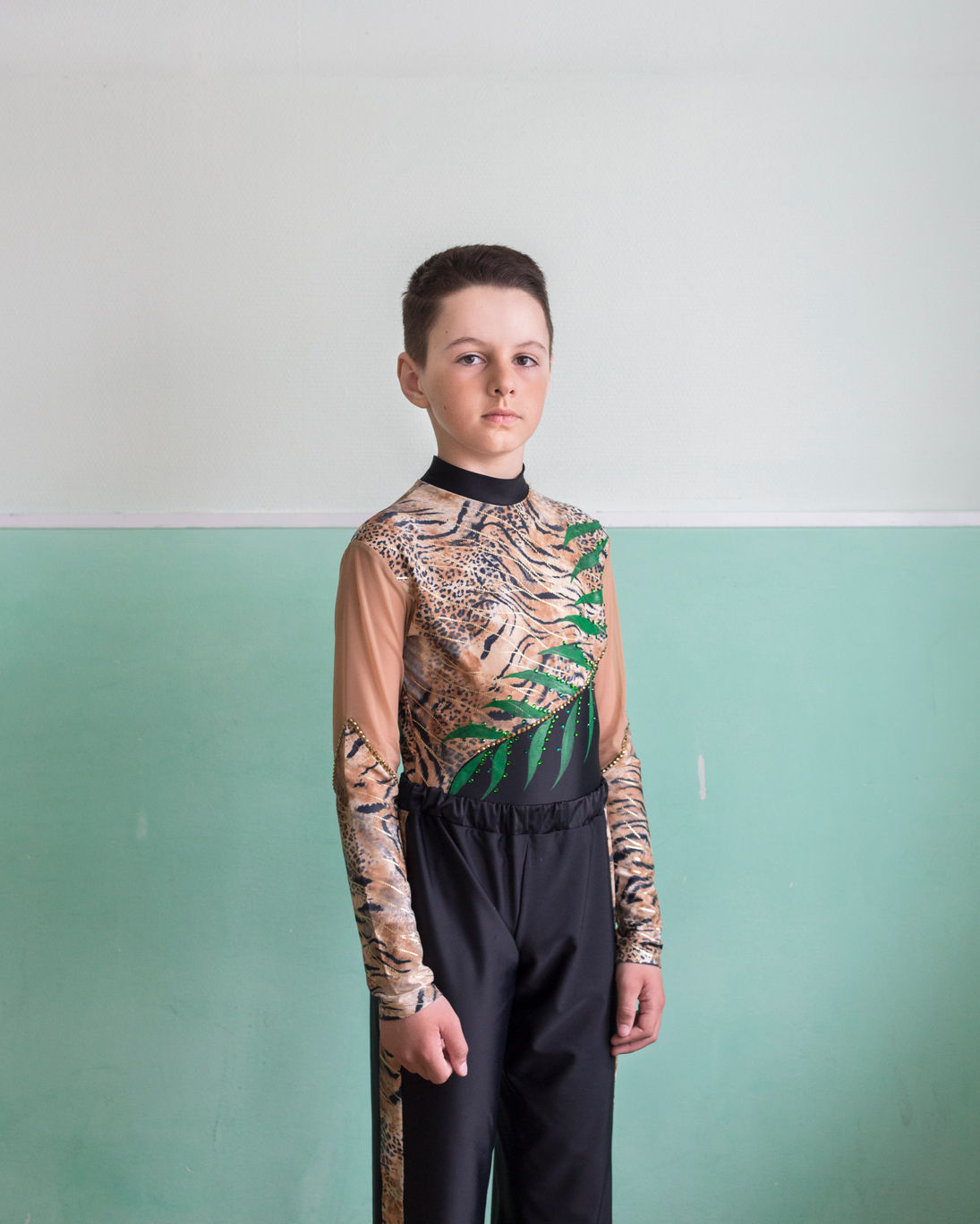 Christian K. Lee
Armed Doesn't Mean Dangerous
In the United States gun ownership is a constitutional right, however history shows us when African Americans assert these rights they are infringed upon. In my hometown of Chicago, I routinely saw negative portrayals of African Americans with guns: Black people there and in the rest of the country were associated with gangs and criminality, and guns were always deemed dangerous in their hands. But at home, I saw a positive, responsible side of firearms ownership: My father was an Army veteran and a police officer. I became a gun owner myself — one of the 24 percent of African Americans who own guns. The point of this project is to recondition myself, and others, toward the more positive view of Black people and guns, and therefore to promote a more balanced archive of images.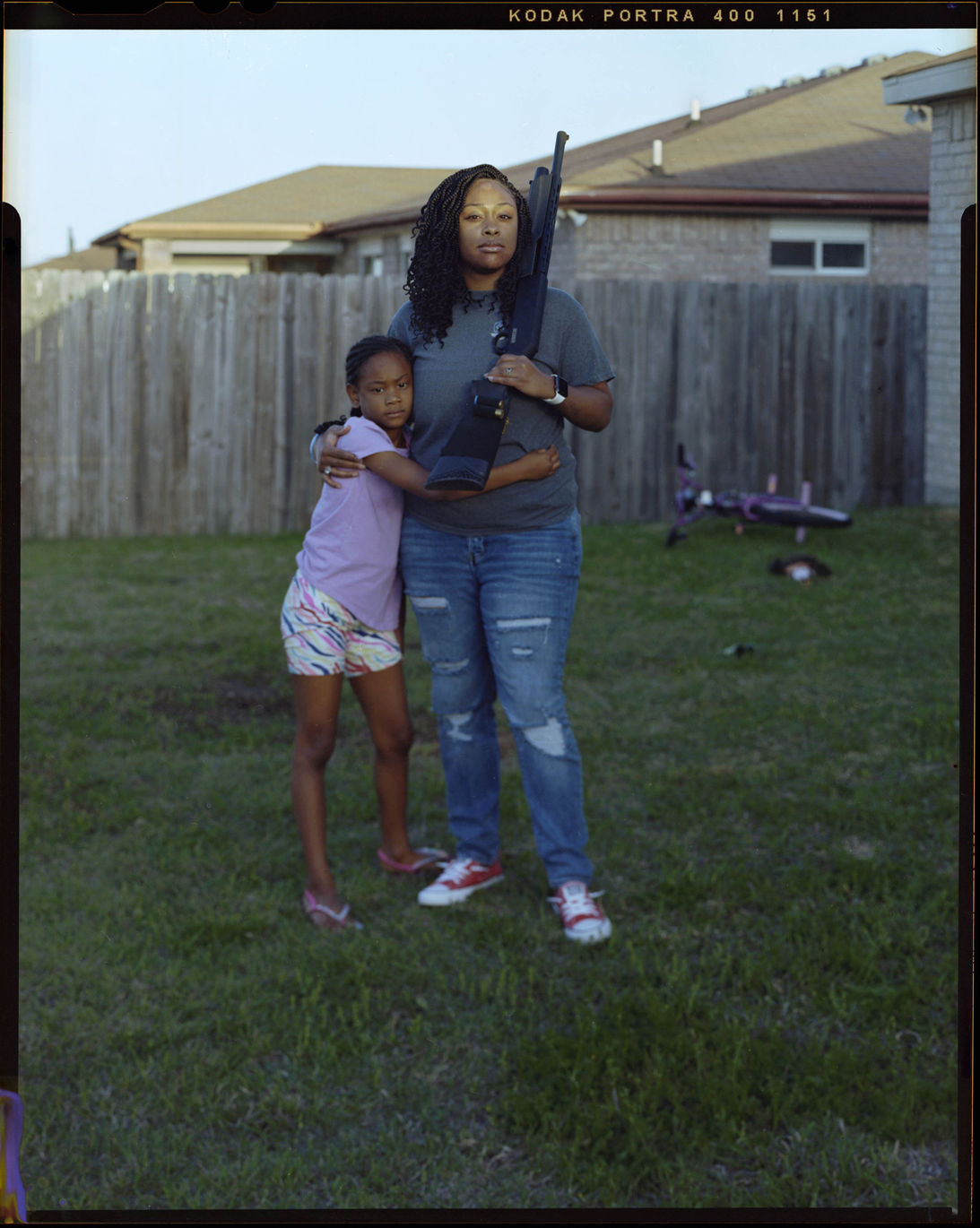 Rogério Vieira
Somos todos alvos aqui
On Monday, September 17th, 2018, Rodrigo Alexandre da Silva Serrano was shot by police who allegedly mistook his umbrella for a rifle. What color was Rodrigo's skin? »Somos todos alvos aqui« ('We are all targets here' – the chorus of the rap song »Estereótipo«, by MC Rashid) is a crude and candid portrait project that comes with the goal of fanning the debate about police violence experienced by people from city outskirts and favelas throughout Brazil. Daily tools and accessories are used as metaphor and refer to the deaths of persons killed by police officers who mistook a tool for a firearm. I chose to photograph with a medium-format camera, and, on average, five to six poses were used for each character. All subjects depicted in this essay are from the city I live in, São Paulo.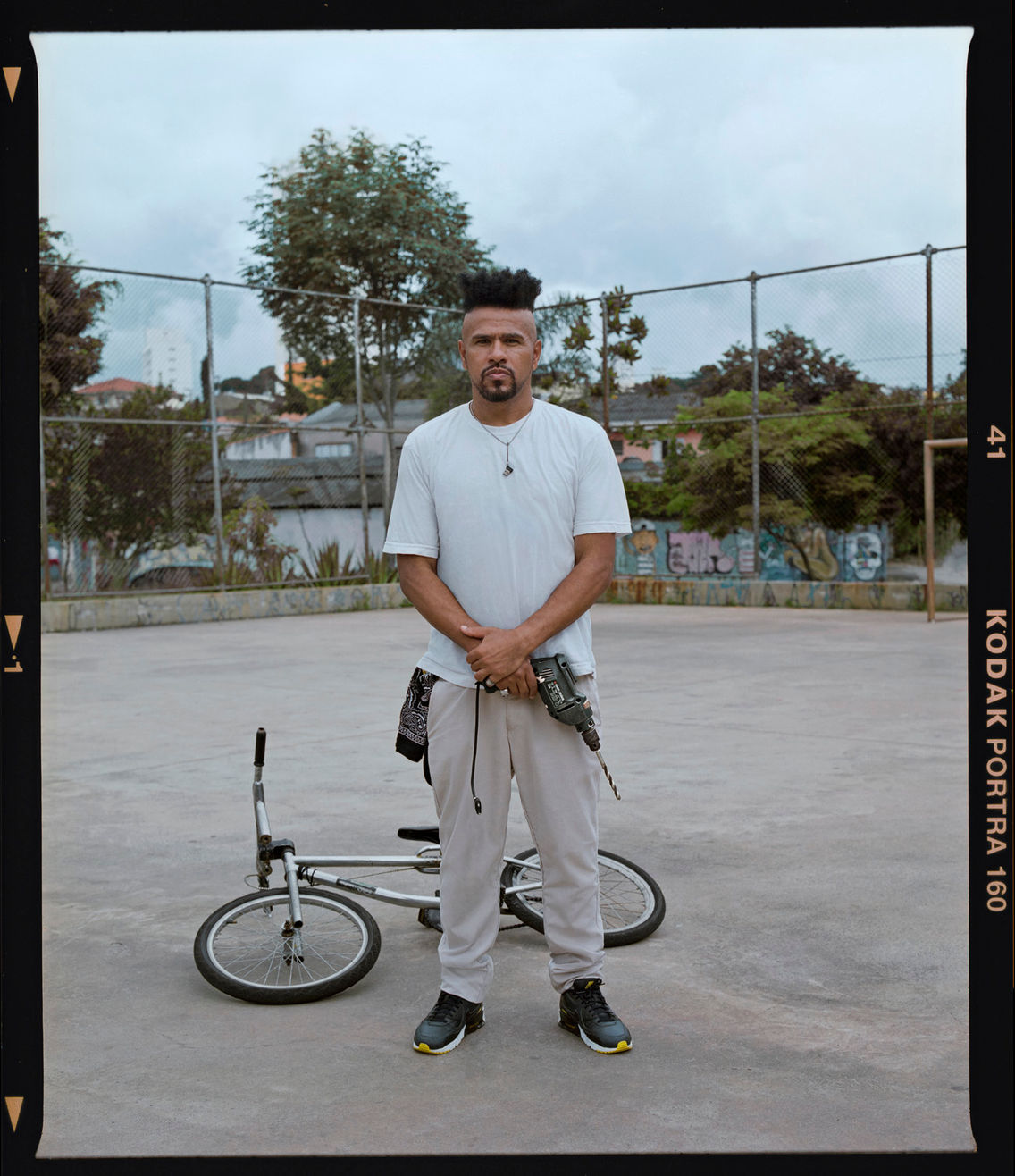 Ruben Hamelink
Living History
As soon as the Civil War ended, veterans organized reenactments to rebuild national unity. Today thousands of highly motivated 'living historians' live out their version of what it must have been like to live and fight during 'the war that forged the nation'. However, the war was fought over the abolition of slavery, something that is not always fully acknowledged. Many of today's southern reenactors are drawn to the Civil War through a problematic and romanticized version of history. In opposition to this is the »Slave Rebellion Reenactment«, a performance piece by artist Dread Scott in which he organized the reenactment of the German Coast uprising of 1811, the largest slave Rebellion in American history. It created a transformative experience for the participants.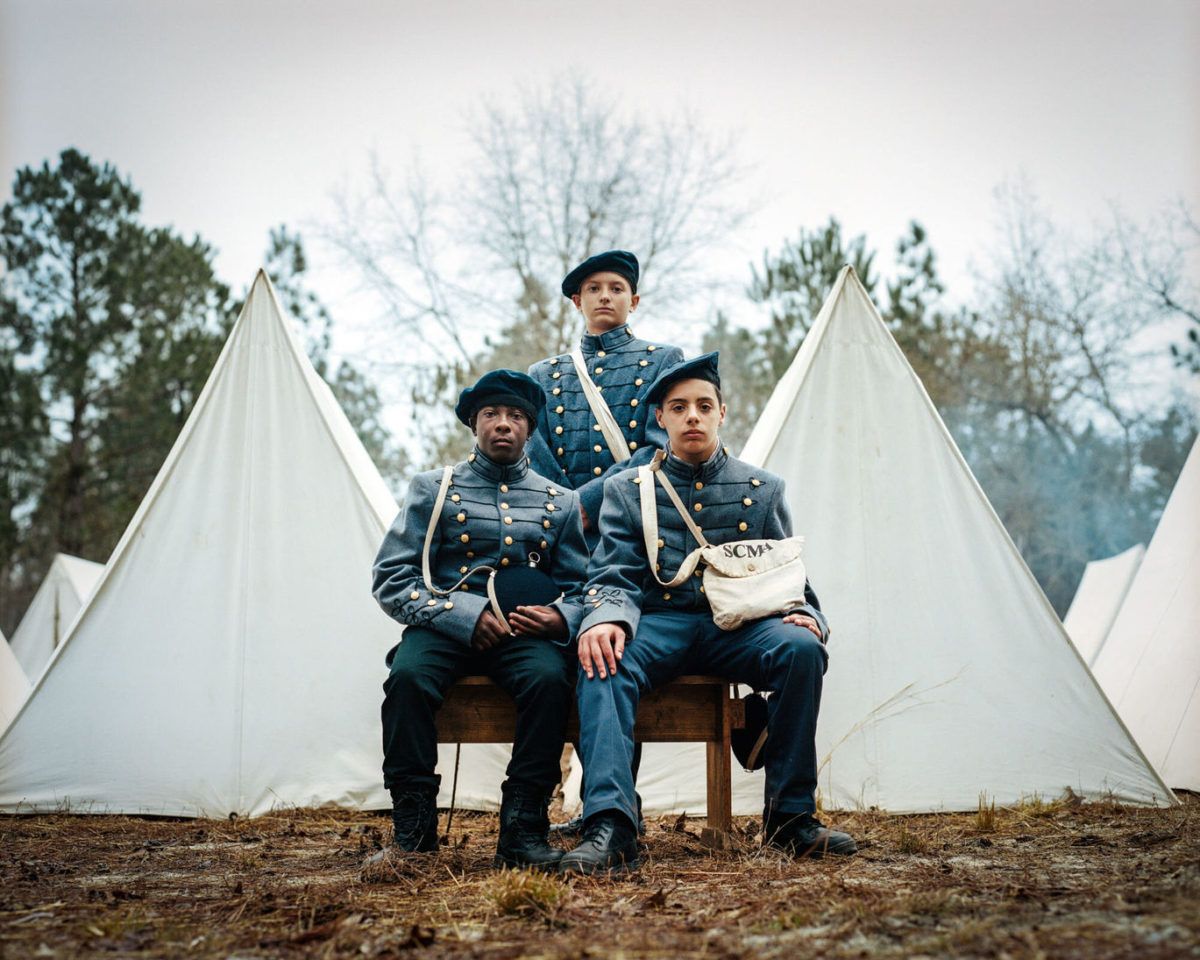 Gabriele Galimberti
The Ameriguns
According to the American Gun Violence Archive, 12,262 deaths, 24,959 injuries and 49,017 incidents were caused in the USA by firearms in 2017 alone. I was shocked when I read that Stephen Paddock, the man who killed more than 50 people at a concert in Las Vegas a few years ago, legally owned 47 firearms, including guns and rifles. All of these were in his hotel room that night. During my research, I came across a family in Texas that owns over 200 fire-arms, one in California that has 80, and many more like them all over the country. I traveled across the USA and created a series of portraits of families and individuals of all ages, races and political views, in their homes, in their environments together with the firearms they own.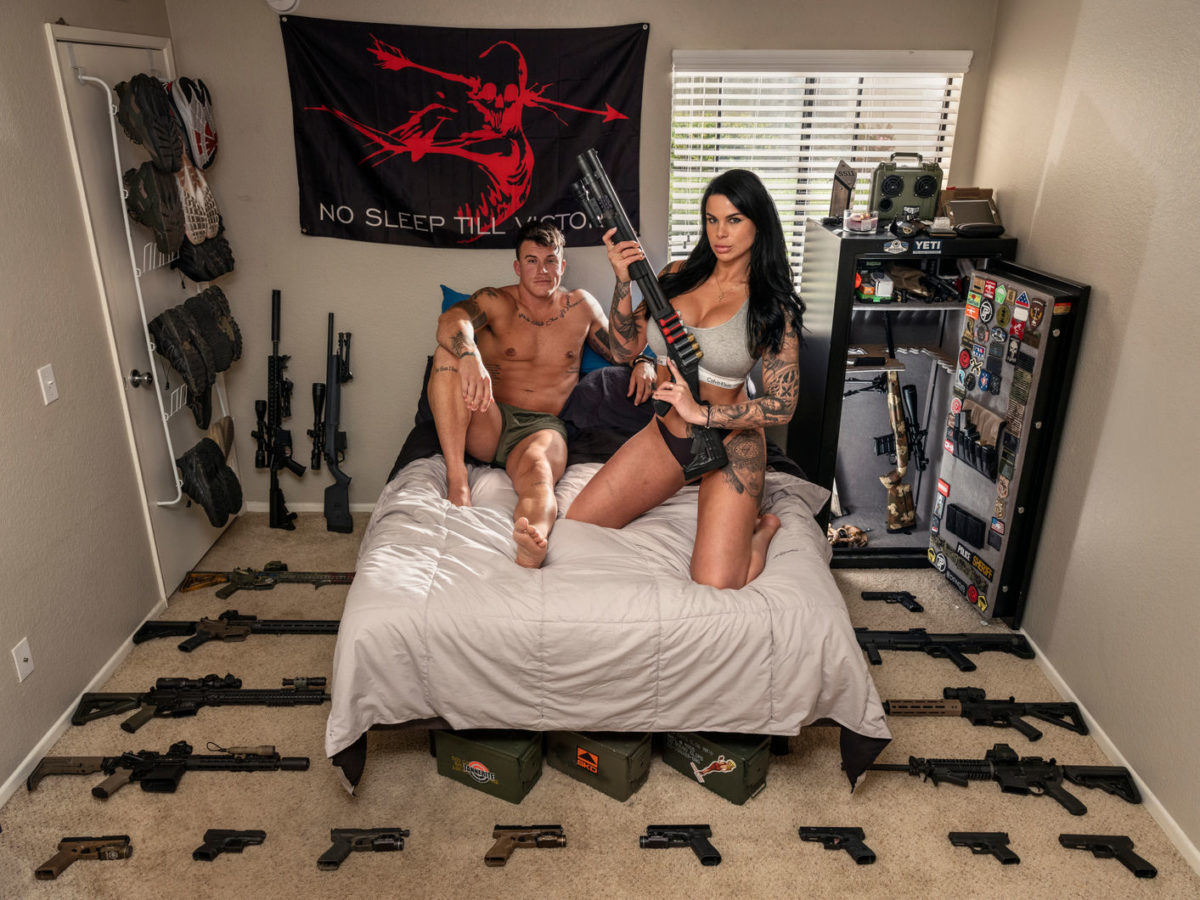 Jerry Takigawa
Balancing Cultures
The series highlights the racism deeply woven into the fabric of our society. A recent discovery of family photographs compelled me to express the shame and loss suffered by my family in "the camps." In Japanese American families, when anyone speaks of 'the camps,' they're referring to the American concentration camps sanctioned by President Roosevelt's Executive Order 9066. Designed to assuage hostile reactions, they fueled a post-war shadow aspect of an entire Japanese American community. A redacted part of my childhood is revealed through this project. Balancing Cultures represents a dark collective memory – long censored in part by the Japanese precept of gaman (enduring the seemingly unbearable with patience, dignity and silence) and the fear that if their voices became too loud, it might happen again. I raise my voice today, because it is happening again.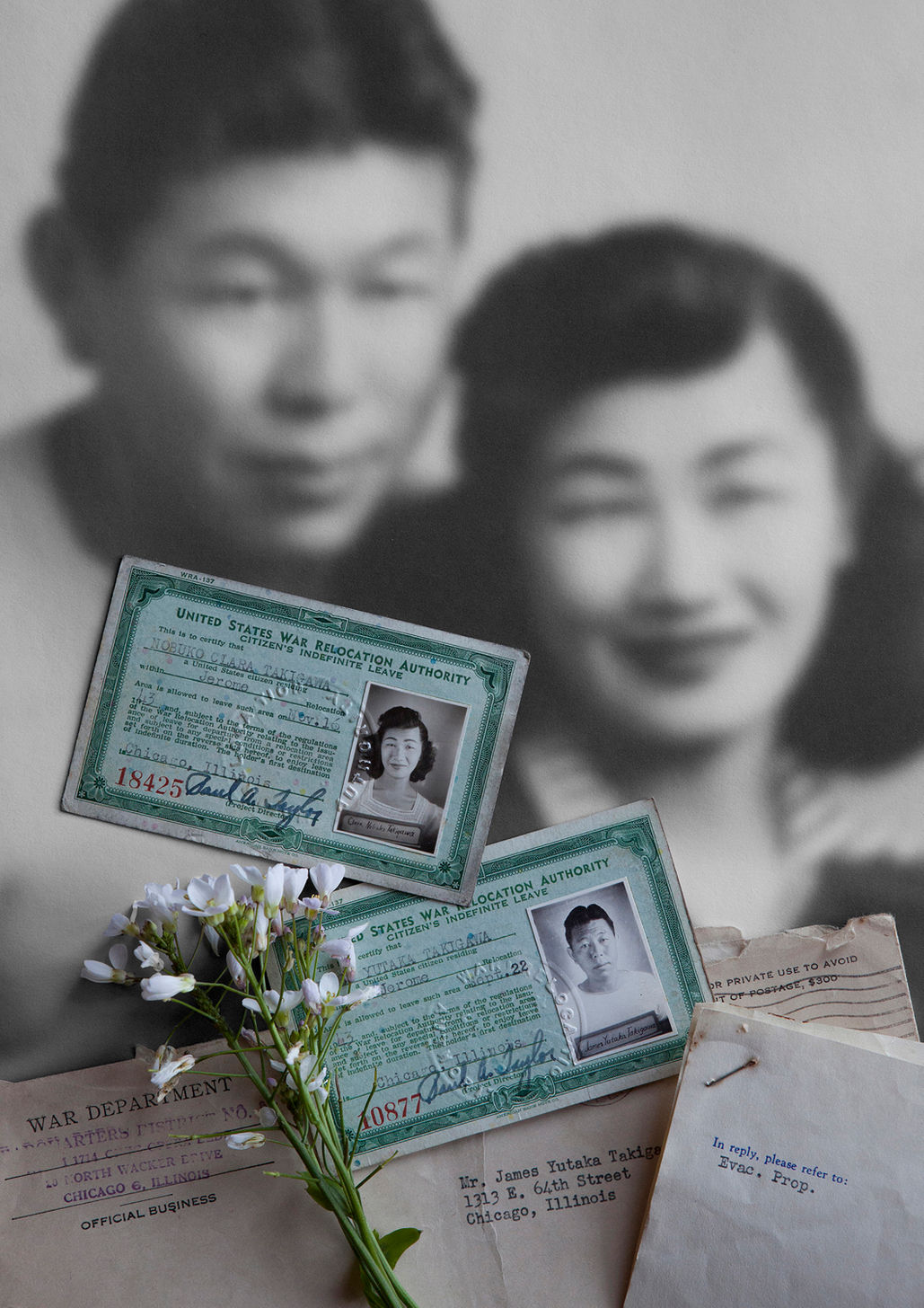 Alfonso de Gregorio
Retained Reports
In this series, I question our relationship with data originated from our private human experiences, gathered and fashioned by surveillance capitalists into prediction products, which are sold in behavioural futures markets, and I invite us to imagine an alternative economic and social logic. Training an AI algorithm to hallucinate ex-novo portraits of imaginary individuals based on an analysis of the glass plates in the public-domain archive of Costică Acsinte, one of Romania's most prolific early-20th-century photographers, I ask the question: When all our future behav- iours are predicted, what does it mean to be human?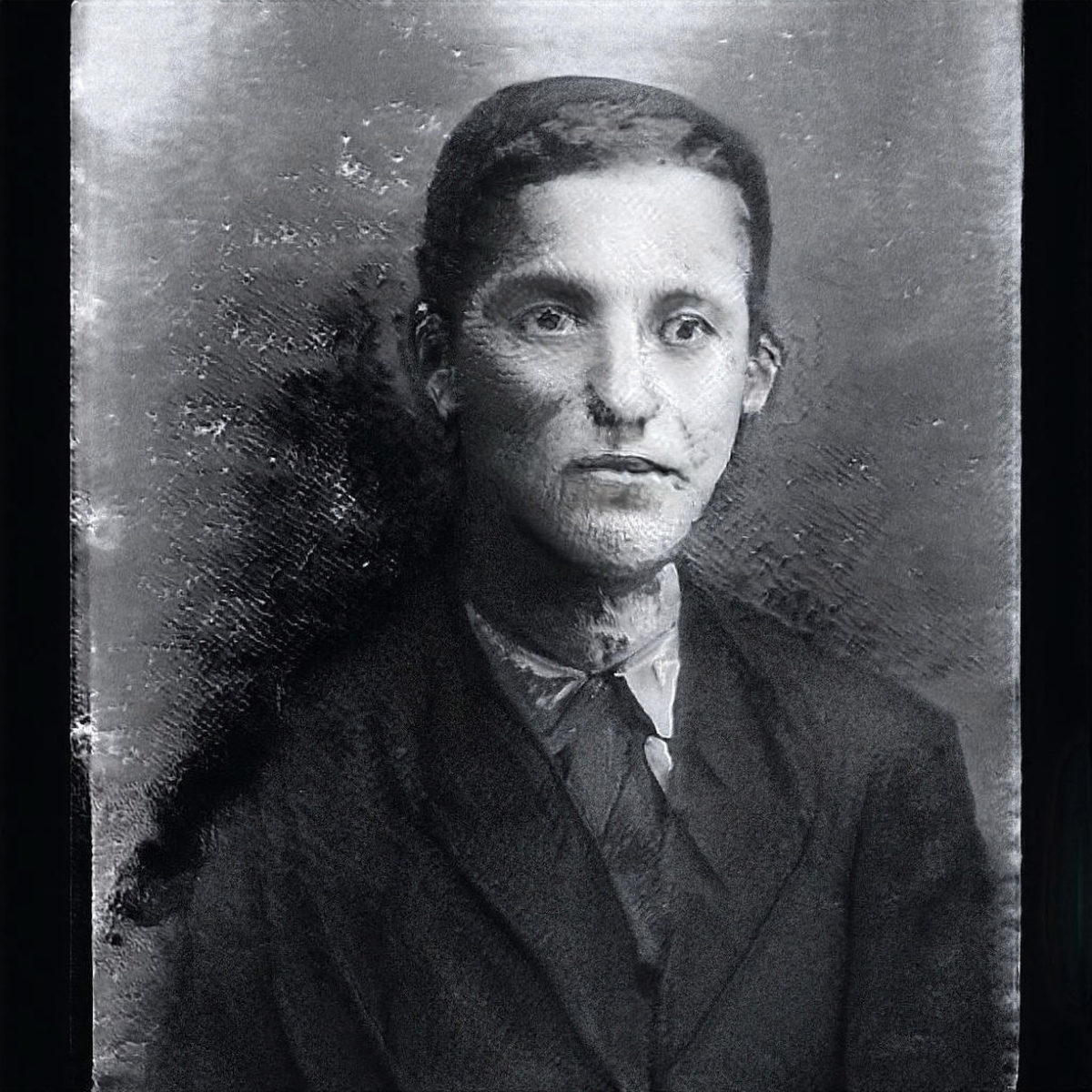 Jesse Egner
Disidentifications
"No Femmes. No Fats." When I started making profiles on gay dating/hookup apps as a teen- ager, this is a phrase I came across frequently, which set precedent that defined my body as unwelcome. Being a queer person with a non-normative body and an invisible disability, the constant rejection from members of my fellow gay community set in motion a battle between my body and my gayness. My series began with self-portraiture – an action that was aggressive due to my aversion to it as a practice. However, it allowed me to begin a visual exploration into non-normative queerness. Utilizing elements such as absurdity, humor, and the uncanny, I even- tually moved on from just self-portraiture, photographing with others in a collaborative process which allowed other narratives and experiences to influence my work.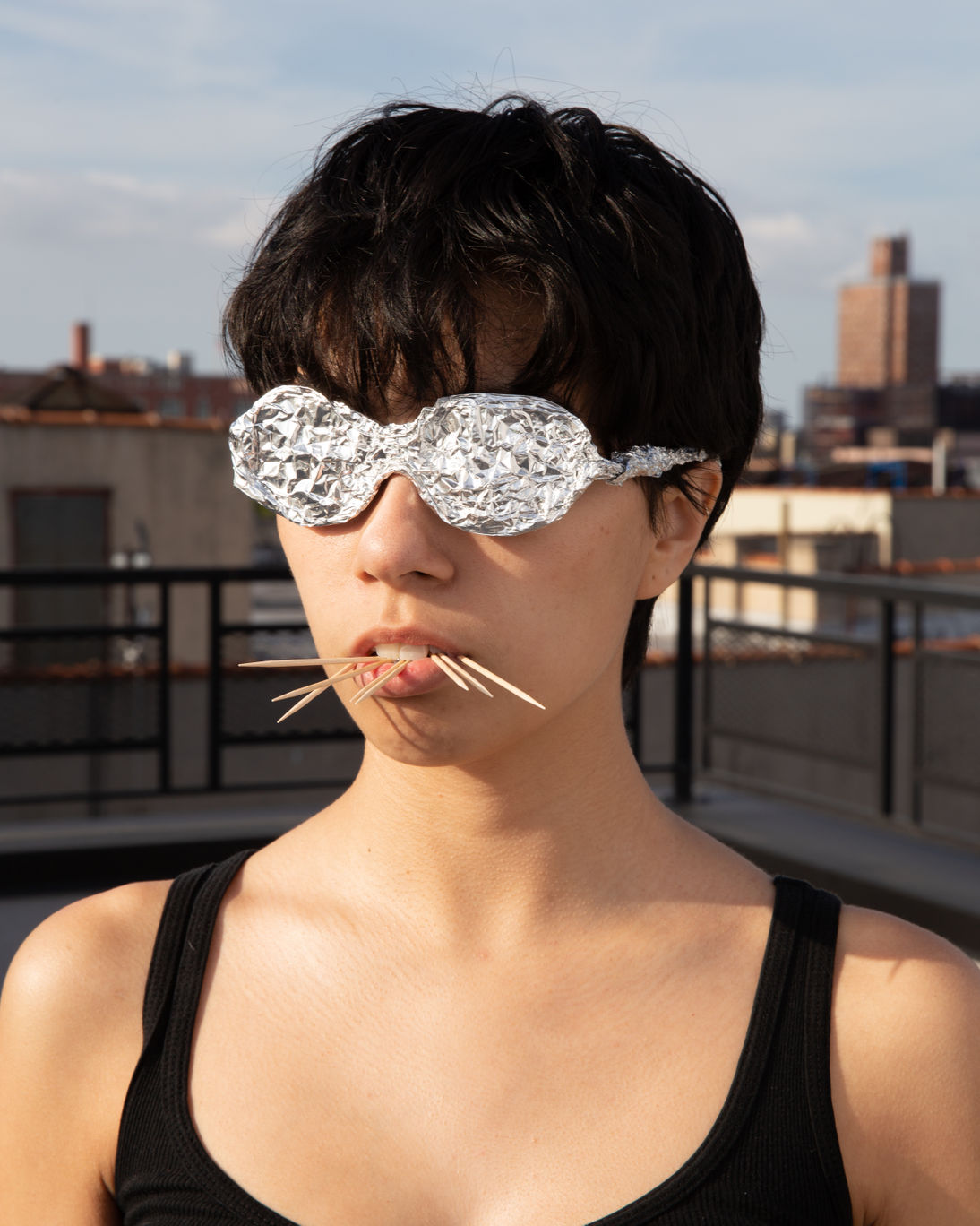 Lise Johansson
I'm not here
Shot in an abandoned hospital, the series is a reflection on mental illness and about identity
in a state of transition. Being in a void between the old and the new, this rite of passage is a vulnerable place. The surroundings can become fluid and one may find themself now completely reset without status or identity. What was before and what will come after? Mental wellbeing has never been more important than today. The pandemic has increased depression, anxiety and fatigue. The series is a reflection on these issues. I draw from personal experience battling mental illness and I wish to address some of the unwanted stigmas around the issue and create a space for open dialogue.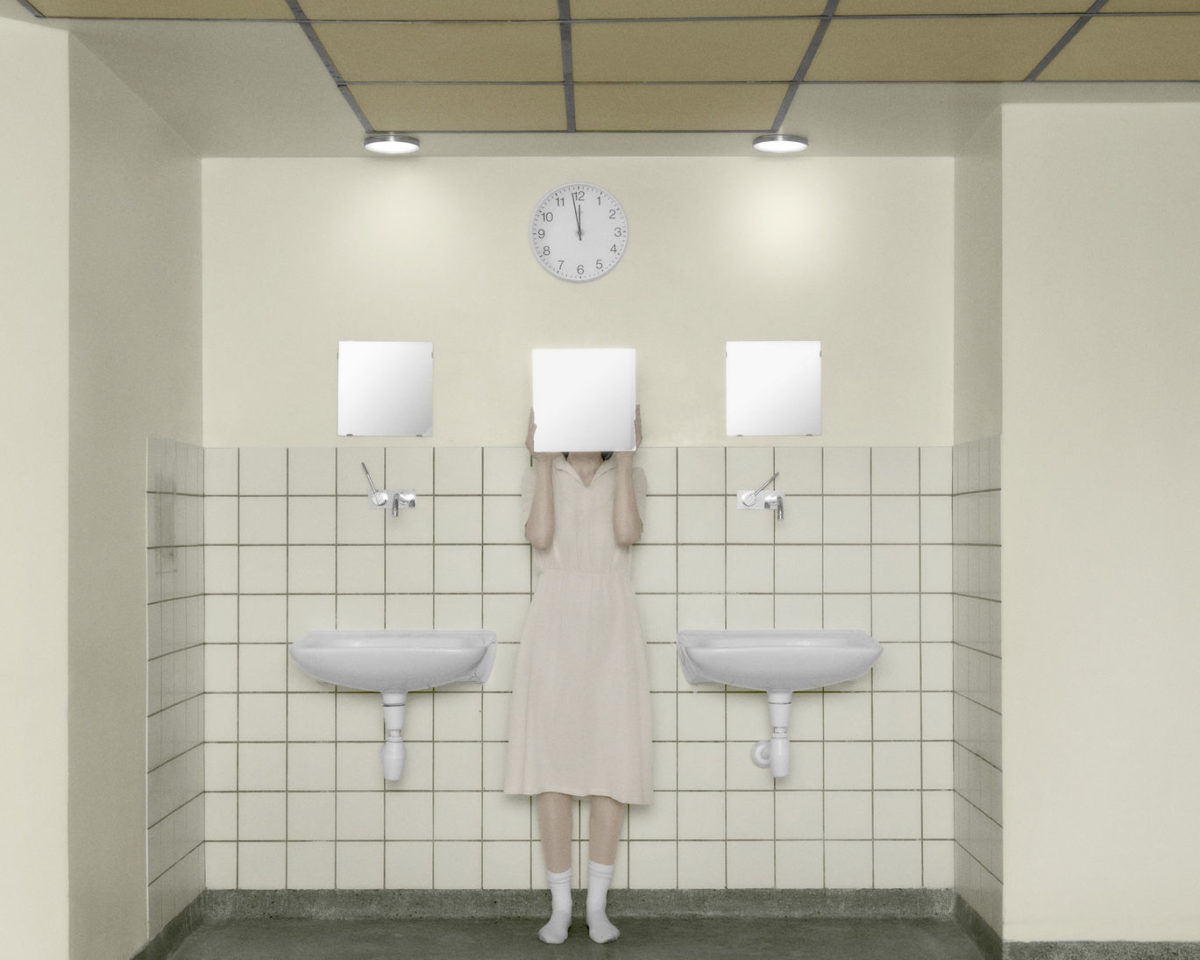 When I was 17 years old and a student, Esther, the girl sitting beside me in class passed away after a short struggle with an illness, before we did have the chance to say goodbye. Today, I am a part time teacher of photography in a new media school. Looking at my students made me think about the days of my youth. I thought about the friends that I used to hang out with, the times I had fallen in love, and all the nights we spent partying. But it also made me think about her. I often tell my students that photography teaches us above all things that our time here is brief. Perhaps this work is a way for me to say a proper goodbye to my youth, and to Esther.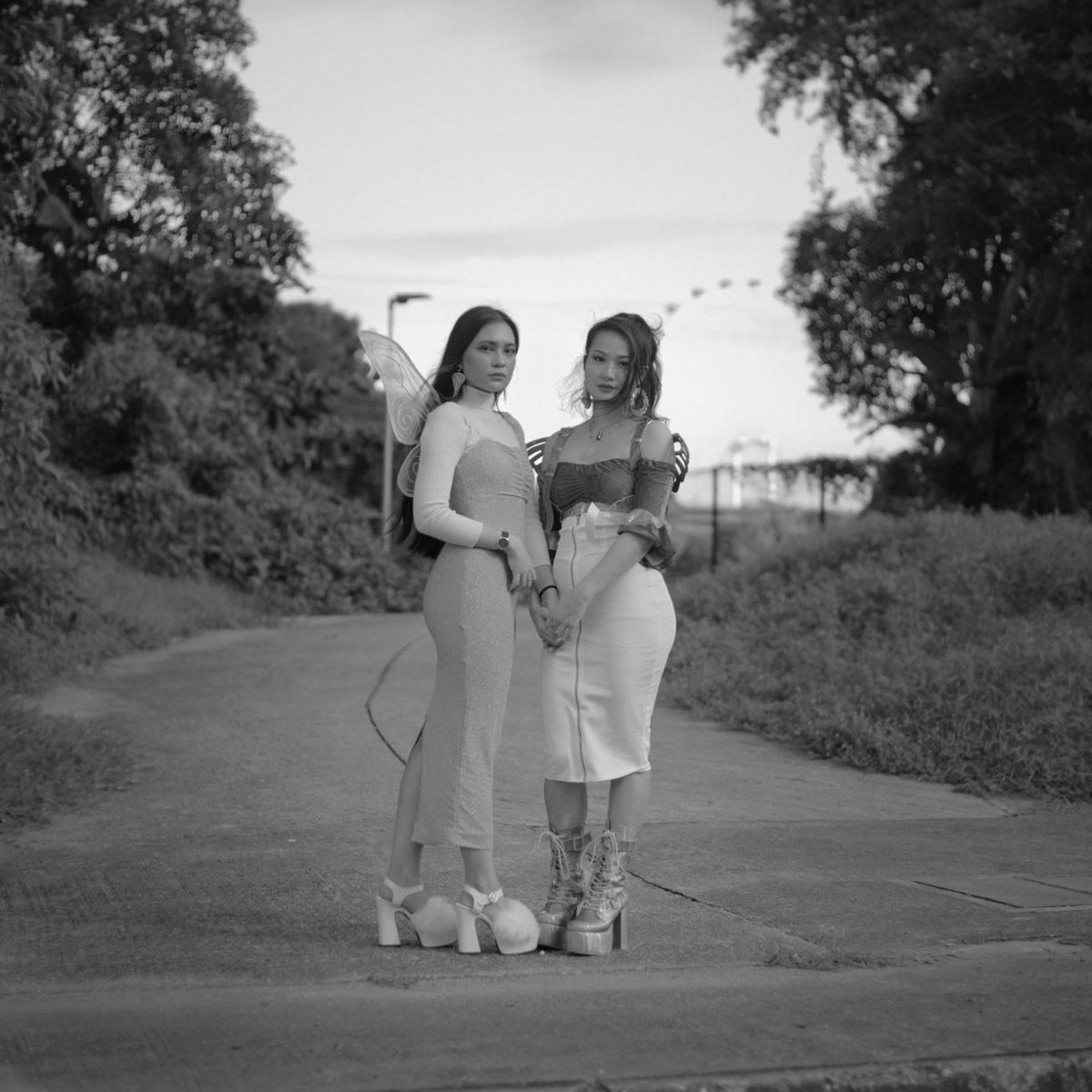 The project wants to be a raw and true look to train our eyes to the beauty of each person and free us from the conventional aesthetics that the market imposes on us. The portraits are all taken on 4×5 and 8×10 sheets; the project is also made up of other images of objects, landscapes and architectures which in my head form a single story around the human figure, which are part of my daily life. After years in which I photographed landscapes and architecture and after Covid I felt the need to resume the human figure. The viewer sees real people without artifice and without distinctions of gender.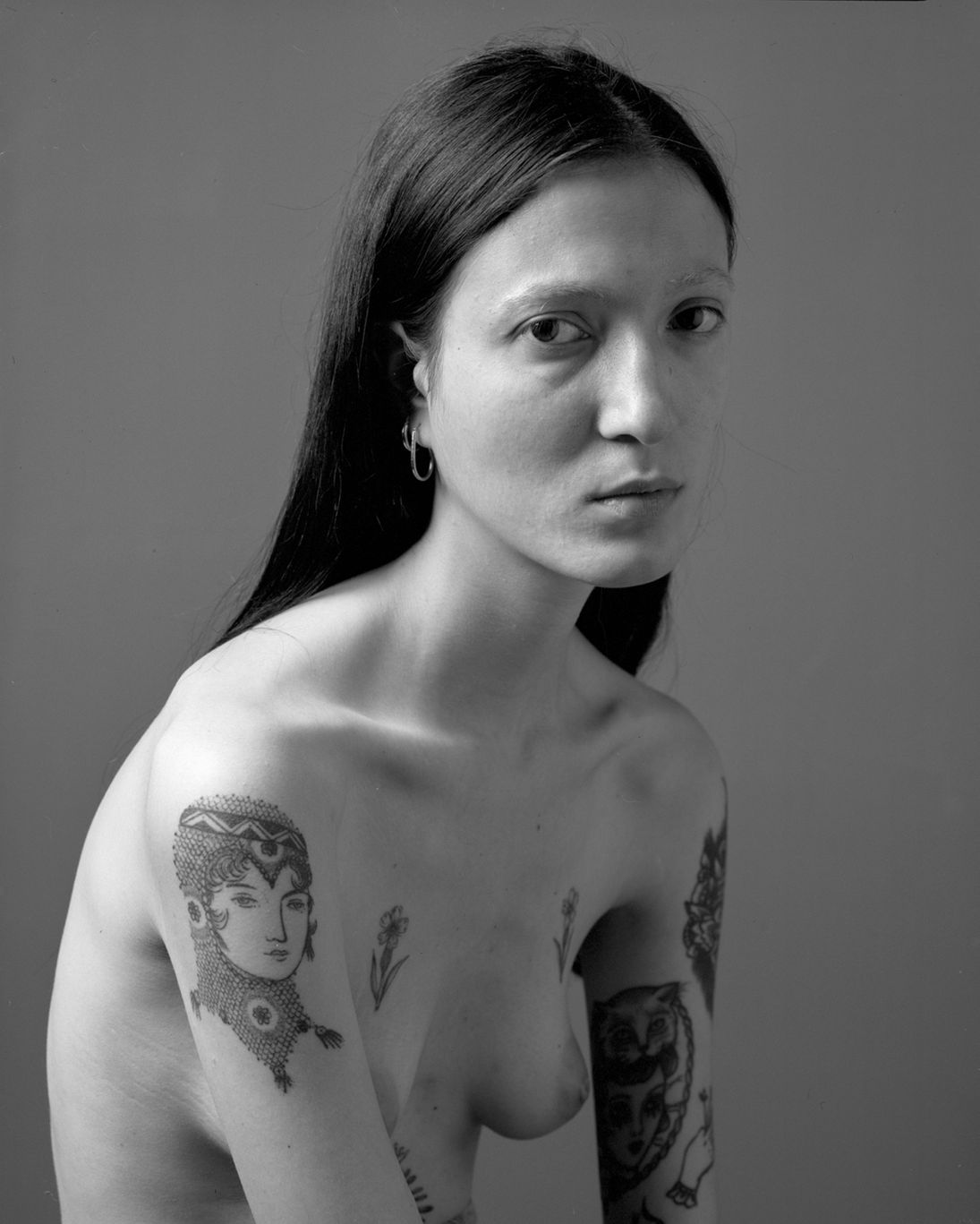 Heja Rahiminia
Conex living
These portraits are of asylum seekers living in conex boxes in a forest around a small village in the Brandenburg state of Germany. These conexes were originally intended to be temporary and for a maximum of one or two months, but have now been transformed into permanent accommodation. Cold and soulless atmosphere, shared toilets and baths, poor hygiene, lack
of partitions, no privacy, and being distanced from the city and ordinary people are one of the problems that these people are dealing with. Most of them are those who have received a neg- ative answer to their asylum process and are waiting for a trial and retrial of their case, which takes between three to five years.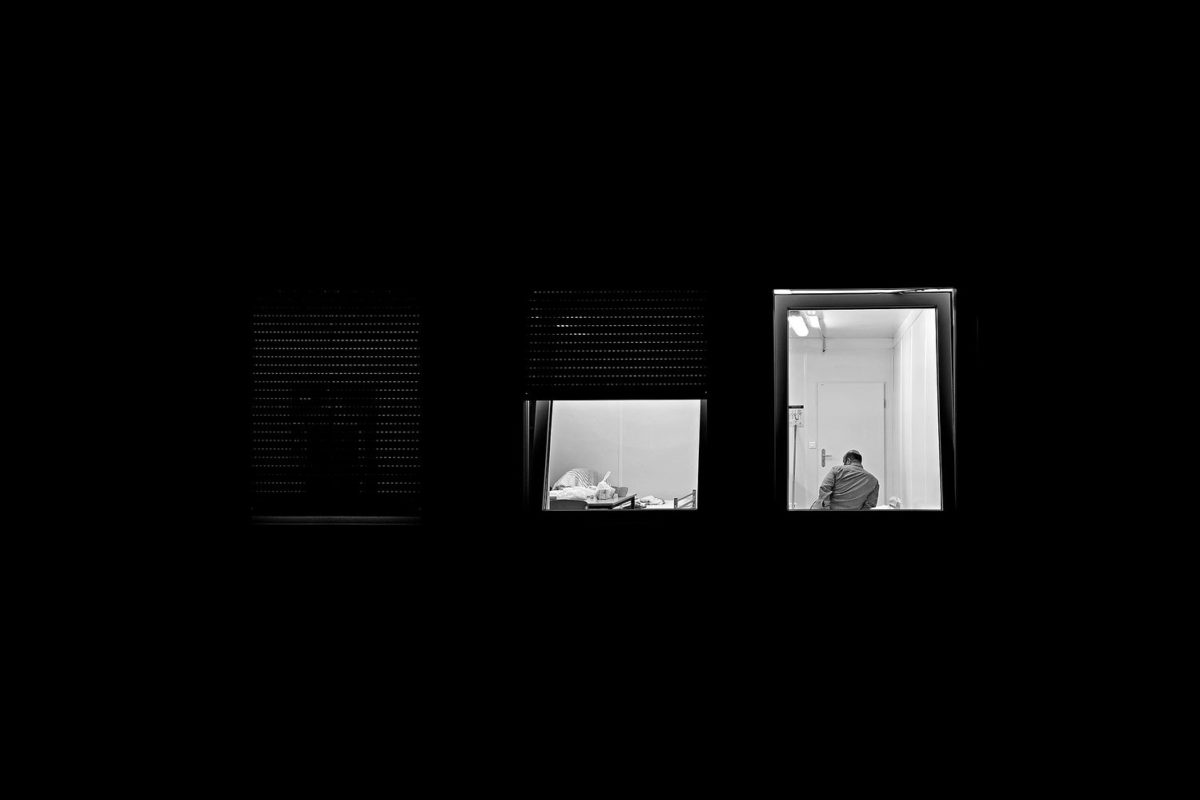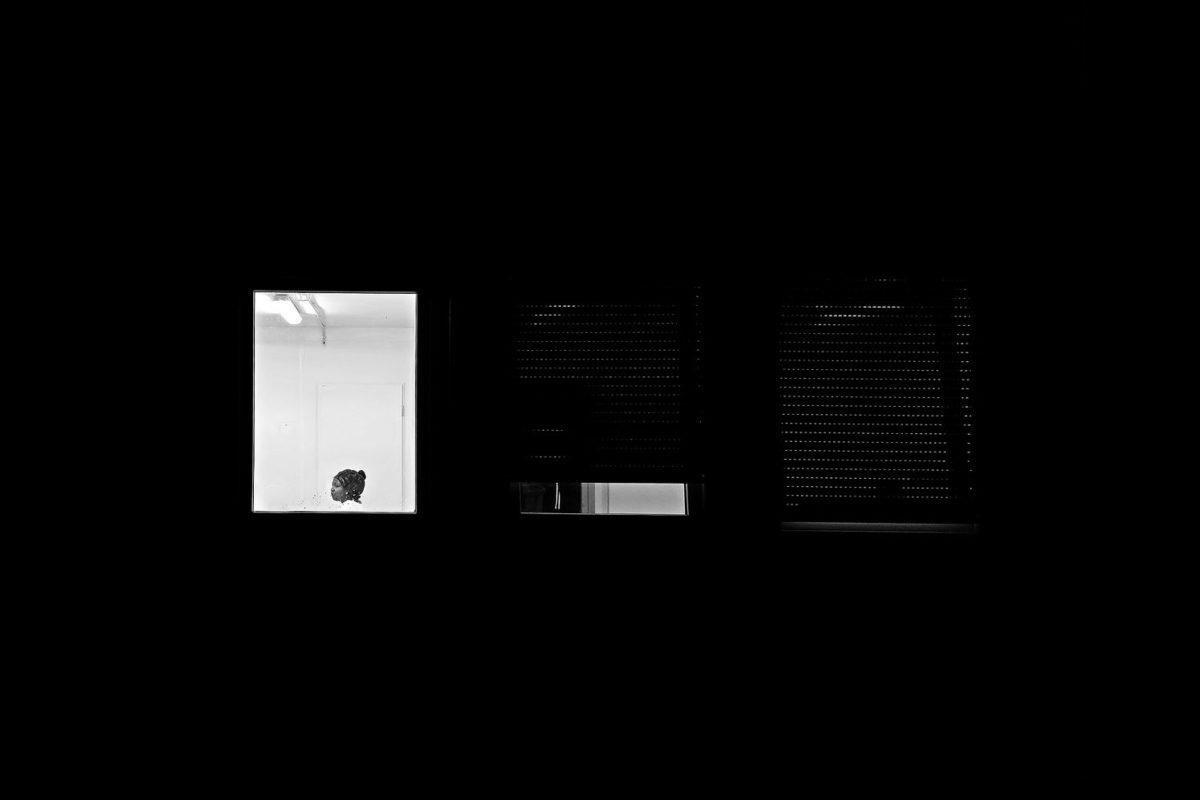 Niv Shimshon
The Close Park
»The Close Park« is the name that my family and I have given to the play area next to our house. When we moved to Hamilton, Ontario, in 2017, we began spending many days and evenings there. Through this space, we got to know our new home and neighbours, some of whom were newcomers, like us, while others were born-and-raised in Hamilton. The park brings together people with a wide range of intersecting racial, cultural, ethnic backgrounds, and gender identi- ties, so we came to know our neighbourhood as a richly diverse place. At this point, the project has expanded beyond the park's borders and into my neighbourhood and surrounding areas. I've kept the project title to reflect the intimacy that develops between people and the spaces that are extensions of their lives and identities.
Shelli Weiler
ENJOY house
The series documents the rise and proliferation of made-for-Instagram selfie factories through- out New York and Los Angeles, presenting such forms of escapist amusement as hostile and uninhabitable environments. Subjects and spaces are produced in the pursuit of ideals, where sites for entertainment are fashioned by their shortcomings. A cold atmosphere emerges from the cumulation of disparate places and their visitors, all of whom become actors participating in the same theater which consists of costumed spaces that take on the appearance of purgato- ries rather than playgrounds. The formal simplicity of greyscale attests to this symbolic power, emphasizing a generation's inheritance of a modern empty experience.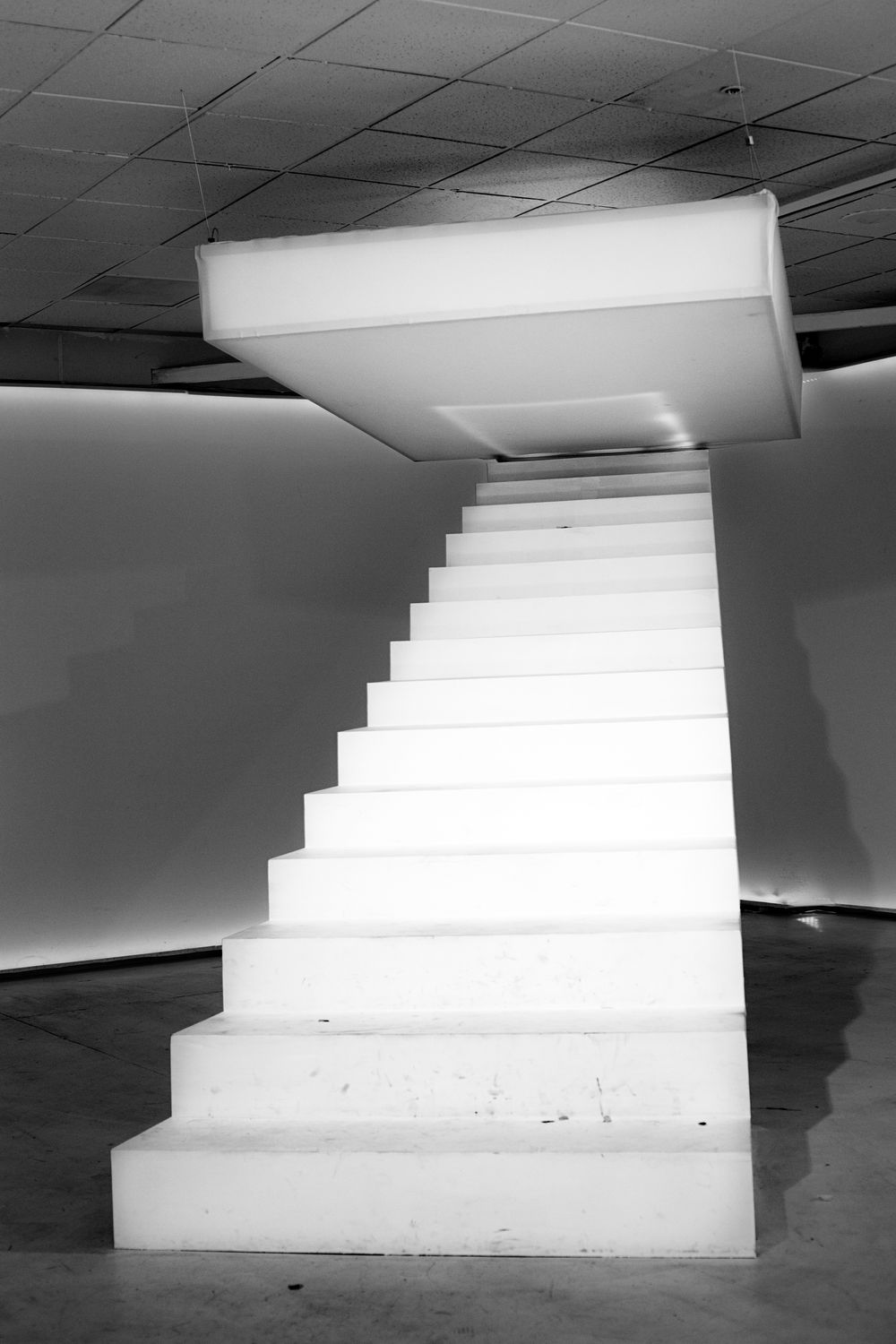 All series can also be found in our current catalogue.
Skip back to main navigation